The Linear Total Body Gym by Marcy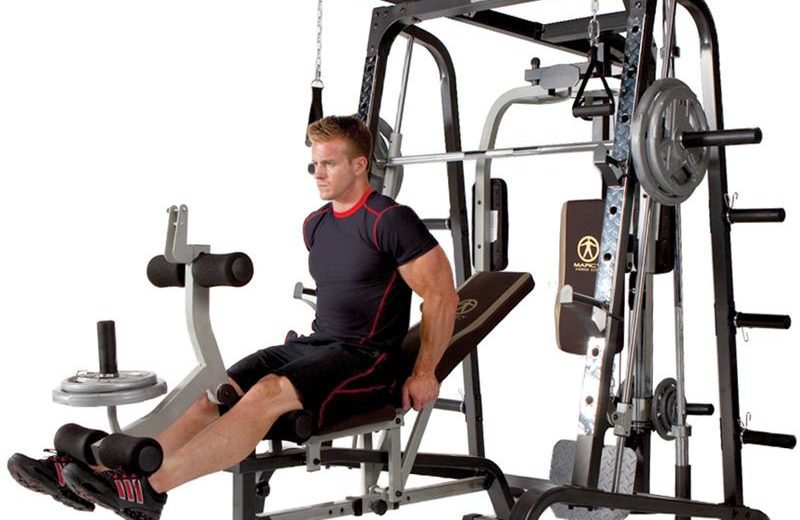 The Linear Total Body Gym by Marcy or the Marcy Diamond Smith Cage Home Fitness Equipment with Linear Bearings was designed and built for a serious training. It is equipped with an ultra Glide linear bearing that is combined with precision machined steel guide rods that enabled this home equipment to work smoothly and for countless repetition
Marcy was founded by a well known weight lifter during the 1940s, Walter Marcyan, he started to design his very own equipments based on his own experiences on training and weightlifting. The company already stands for 50 years and it still continues to provide workout equipments fit for a weightlifting champion, they are still making their name even more popular and trustworthy by offering high quality and innovative gym and home gym system equipments.
This Home Fitness equipment accommodates to the natural movements of both the upper and the lower parts of our body. But what more does it have to offer?
A Quality Gym Experience at the Comfort of Your Own Home
The Linear Total Body Gym is designed and is meant to be used at home, but it is still built with the quality that can provide you with an intensive training. This total body training system from Marcy combines the Smith machine, an unbelievable precision, linear bearings, a pulley system that is cable routed and a free weight rack that is Olympic level, you can get all of that and more from an attractive looking, durable and versatile home gym system.
It Gives You a Wide Range of Workout Options
This home equipment combined three different type of strength building machines in just one compact design and it gives you the option over performing more than one hundred quality type of exercises. This home gym system's one of a kind Cable Cross dual pulley system will allow you to do functional kinds of exercises that will employ different kinds of movements that is associated with daily tasks and sports associated moves.
Other Features
The Marcy Linear Total Body Gym also include a weight bench that you can use on different kinds of exercises, it also has a total leg developer and a bicep preacher curl. It is also equipped with a cable routed pectoral fly station that is used to target your chest muscles. This gym equipment also includes an adjustable Smith bar catches, a safety Olympic bar catches and a total of 600 lb weight capacity.
Related Links: