BowFlex Revolution Home Gym: Your Newest Home Gym Equipment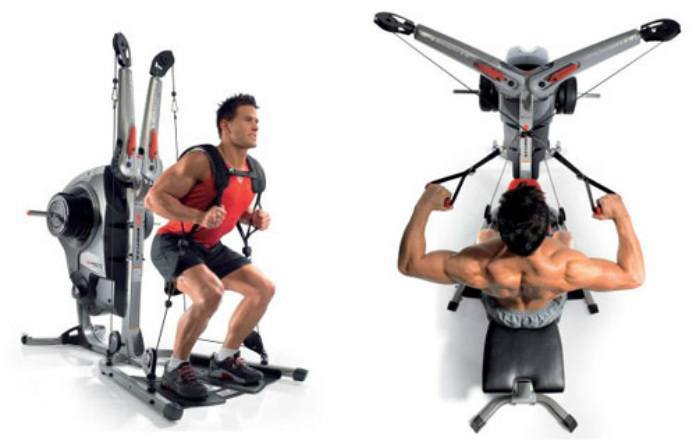 Nowadays, working out is an important factor in your overall health and fitness. Doing it should be fun and easy. There are those people who feel the gym is best place to gain access of every kind of working out routines and equipment.
Yet, there are also those people who prefer staying at home and have their own home gym equipment.
Bowflex Revolution Home Gym is a modern-day home fitness equipment which lets you do cardio and weight training. Having this at home can be hassle-free and convenient compared to spending money, effort and time.
This home gym is capable of generating over 100 types of routines.  Definitely, it can give you that sculpted body you desire because it delivers ultra-smooth, consistent resistance the whole range of your motion.
The BowFlex Revolution Home Gym is designed for all levels- beginner to advanced users since it offers various working out routines,
So, here is a close look of what can it offer, the some types of workouts you can do, equipment maintenance routine and what people who have used it can say about it. This is to help you decide whether this one is for you!
What is the technology behind this home gym equipment?
The SpiraFlex® is the kind of resistance plate system used in this home gym which is light, noiseless, more compact and more resistant. The plates also offer the same level of resistance to typical cast iron plates. It makes it easy to move around, saves space and much quieter to workout.
This is BowFlex's unique design of resitance systems. SpiraFlex® resistance system utilizes SpiraFlex® plates, cables, tension control knob and adjustable Freedom Arms®.
If compared to typical home gyms, they are simply using rods for resistance, cables and weights which don't give much smooth resistance and consistency as that of the this unconventional home gym.
This kind of technology would sculpt your muscles efficiently in lesser time. It is primarily set to the optimal resistance during your workout. The maximum is 300 pounds (136) for upper body and 600 pounds (272 kg)  for your legs while a minimum of 10 pounds
Its plates are not just simply increasing weight by stacking up more plates to a barbell, but weight of plates are increased by adding weight to weight stack. This is because its movement doesn't move through a plane of motion.
This makes it a great already whether you are a beginner or advanced.
Its Assembly and Maintenance
The user manual of the BowFlex Revolution is very user-friendly. The manual has the step-by-step assembly instructions with diagram, nutrition guide and the guide on how to perform the exercises.
The step-by-step instruction for the assembly is explained in a separate owner's manual. This whole instruction definitely costs you more time to assemble given the variety and the number of its parts.
The nutrition guide has a lot of thing to offer suggesting serving sizes as well as food choices. The diet plan covers whole-day meals. As part of the BowFlex Weight Loss guide, it's a complementary tool for the whole workout program.
Lastly, the kinds of exercises offered illustrated how to perform most effectively. Each page gives 2 exercises that would help muscle groups work, bench, motion arm and other kinds of combinations. They are illustrated clearly.
How to Maintain
On the other hand, as much as enjoying the results of working out, maintenance of this equipment is indeed necessary. This is to ensure safety and efficiency of the equipment.
As with any other fitness equipment, the manufacturer suggests basic level of maintenance. The manufacturer suggests basic level of maintenance.
It is suggested that every time you work out, the machine must be wiped out of any sweat. Another thing is the monthly check up for the loose bolts.
However, BowFlex didn't describe in this manual a specific way of cleaning the equipment but rather some preventative maintenance jobs. Their list is almost the same with Precor's UBK Collection of exercise bikes.
This is because both have internal components. In UBK bikes, its cover must be removed to clean internal parts once to twice a year. In the same way, BowFlex's removable cover opening the engine shall also be cleaned.
The mentioned proper cares for the equipment are done so easy. So there is no way of taking them for granted to lengthen its service to you at home.
What Kinds of Workouts Can It Do?
As already been mentioned, the BowFlex Revolution supports a full-body range of the upper and lower exercises. On the contrary, other home gyms only cover upper body workouts leaving behind cardio and leg training. The BowFlex will cover up what those other home gyms can't give. (Also check out the BowFLex PR1000 Home Gym)
The equipment comes into several options to do in the legs. In fact, it has leg press station in addition to leg extension section.
The leg press strengthens the hamstrings and the leg muscles. It is a compound exercise that builds better strength development.
There's a recess in the padding at the front part of the seat that has the same width that of the seat rail. This recess holds the leg press seat-back joined with the leg press plate. That makes possible for developing lower body strength-the leg press.
Another option is the built-in rowing machine. This is a good cardiovascular workout that would improve your muscles all at once. This strengthens endurance, burns fat and boosts cardiovascular system.
This time, if you want to train your biceps, slide a preacher curl attachment into the leg developer at the point. Then you can perform curls using resistance from the lower cable pulley.
The single-stack designs are still there despite the absence of single high cable pulley. The same angle can still be made using the adjustable arms positioned close together.
It provides a lot more exercises. You just have to explore every pats and pieces of it as if the whole gym is packed in it. The Freedom Arm technology allows any kind of exercise of this in different angles. Moving the angle could lead safer and better muscle stimulation.
Here are some popular exercise options you can try categorized under muscle group:
Abs- rope crunches, weighted crunches
Back- Lat Pull downs, seated row
Arms- preacher curl, tricep pushdowns, bicep curls, overhead extensions, concentration curls
Shoulders- seated shoulder press, side lateral raises, upright rows
Chest- pec fly, incline chest press
Legs- harmstring curl, leg press, leg extension
To conclude, working out different parts of your body will be given a blast by its versatility. Most importantly, it is the leg exercises that should earn the most variety of exercises. The BowFlex knows that well so.
What did its customers have said about it?
People buy the BowFlex Revolution because of the convenience and quality of workout it provides. For this reason, the users love this technology because using it feels good and see differences.
One reason is that you could adjust the resistance quickly and they can perform a lot of various kinds of workouts equipment and of course, of its compact design.
But after all the positive reviews,especially marked on its resistance system and exercise options, so a fair-share of its upsides and downsides should be considered
What other other best way to know those pros and cons by knowing what users' reviews on the BowFlex website or in ecommerce sites such as Amazon or Ebay. As a result, there are so much reading and finding the points that would really affect your decision- can be taking too much of your time.
Here are those points that are frequently mentioned reviews in those sites as well in the BowFlex's website. We covered them all in a list form.
Pros:
There are wide array of exercise options
It is very simple to use and stress-free
The resistance or the Revo's SpiraFlex plates are light, quiet and quick-setup
It takes small space and if saves way more once folded up.
It can offer both cardio and body-shaping workouts
The telephone support and response services are readily accommodating
It has 10 years warranty
The seat and locking pin design in the free motion arms enable the quick alteration between exercises.
Weight plates are lighter and don't create noise.
Cons:
The installation and assembly could take several time
Setting up the low cable pulley can also time-consuming
Some users would have wished to lower the leg press plate
There would be some delayed support services but in Amazon, they are quick to answer questions.
Since warranty is 10 years long, manufacturer sends replacement parts instead.
It is pricey yet the satisfaction is guaranteed
Conclusion
This is perfect total-body workout equipment you could have as a home gym. If you want a high-performance, high-quality and flexible home gym, this is perfect for you. It also is time and money-saving since you don't have to go to the gym.
The Following are Some Routines You Can Surely Do with Yourself
Leg Day
The equipment is excellent in training your legs. It can actually sculpt your leg muscle for a total of 17 different exercises. The leg routine below will help tone and build lean muscles tissues.
| | | | |
| --- | --- | --- | --- |
| Exercise | Sets | Reps | Rest |
| Leg Extensions | 3 | 12 | 1 minute between steps |
| Leg Curls | 3 | 12 | 1 minute between steps |
| Cable Kick Backs | 3 | 12 | 1 minute between steps |
| Cable Squats | 3 | 12 | 1 minute between steps |
| Leg Press | 3 | 12 | 1 minute between steps |
Progress for leg days: Add more weights to your resistance as you progress in your leg days as you also gain strength.
Regress for leg days:  Ensure a complete higher rep range with little or no weight at all. You only do this when you have been injured before or have struggles complete leg training. This will help build up strength in your leg over time.
Tips for training legs: Always do a warm up and stretch sessions before you start this training, this is to prevent pulling any muscle or causing injury.
Shoulders And Triceps
The equipment lets you train your shoulders and triceps a lot easier. It can cover all angles for your shoulder and triceps days. Also, it can cover all heads of both of your shoulder and triceps.
| | | | |
| --- | --- | --- | --- |
| Exercise | Sets | Reps | Rest |
| Triceps Pull – Over | 3 | 12 | 1 minute between sets |
| Triceps Push Down | 3 | 12 | 1 minute between sets |
| Front Cable Raise | 3 | 12 | 1 minute between sets |
| Side Cable Lat Raise | 3 | 12 | 1 minute between sets |
| Cable Shoulder Press | 3 | 12 | 1 minute between sets |
Progress for shoulder and triceps training: For your progress in this kind of training, simply add more resistance and reps. You can also do reps in a slower controlled motion. As days progress, so as your limits.
Regress for shoulder and triceps training:  If performing the kinds of workouts in these areas has been a struggle, don't be afraid to take it slow, go for lighter weights with higher rep ranges instead.
Tips for shoulder and triceps training:  The secret in performing this kind area of workout lies in your posture. Keep a neutral spine or avoid the slouch. For effective triceps training, target them correctly by keeping your elbows still.
Back & Biceps
When it comes to training your back and biceps, you can aggressively choose any of the following routines. Furthermore, you can work them out exceedingly using the BowFlex because there are so much choices.
| | | | |
| --- | --- | --- | --- |
| Exercise | Sets | Reps | Rest |
| Bicep Curls | 3 | 12 | 1 minute between sets |
| Hammer Curls | 3 | 12 | 1 minute between sets |
| Straight Arm Push Downs | 3 | 12 | 1 minute between sets |
| Seated Row | 3 | 12 | 1 minute between sets |
| Single Arm Cable Pull Down | 3 | 12 | 1 minute between sets |
Progress for back & biceps training: As days passes, so as your weights. Don't be afraid to exceed your limit. Furthermore, you can also perform some specialist techniques just like negative reps, super sets and forced reps.
Regress for back and biceps training: It is important to know your targets correctly. If you struggle to activate the muscles, go slow! Likewise, make slow movements with the lightweights instead.
Tips for training your back and biceps: Just like in performing the shoulder and triceps, it is very important to remain a proper posture. Avoid slouching and keep you back straight. This will make your workout way more effective without creating tension in some muscles in your back.
Chest Day Training
Consequently, the chest muscles must be trained by both male and female. Using the BowFlex for your chest day will define your fron delts and the balance of your physique.
| | | | |
| --- | --- | --- | --- |
| Exercise | Sets | Reps | Rest |
| Chest Fly | 3 | 12 | 1 minute between sets |
| Chest Press | 3 | 12 | 1 minute between sets |
| Lower Cable Chest Raise | 3 | 12 | 1 minute between sets |
| Cable Cross Over | 3 | 12 | 1 minute between sets |
| Cable Iron Cross | 3 | 12 | 1 minute between sets |
Progress for chest training: As days progress, so as your chest day training. Take it slower and heavier as you wish.
Regress for chest training: If you struggle to stimulate your muscles, just start doing controlled movements with lightweights. Always keep your chest out and your back straight.
Tips for training your chest: Keep your elbows down or don't let them flare too much. This is how to effectively target your chest muscles.