Precor 9.27 Treadmill with Ground Effects Technology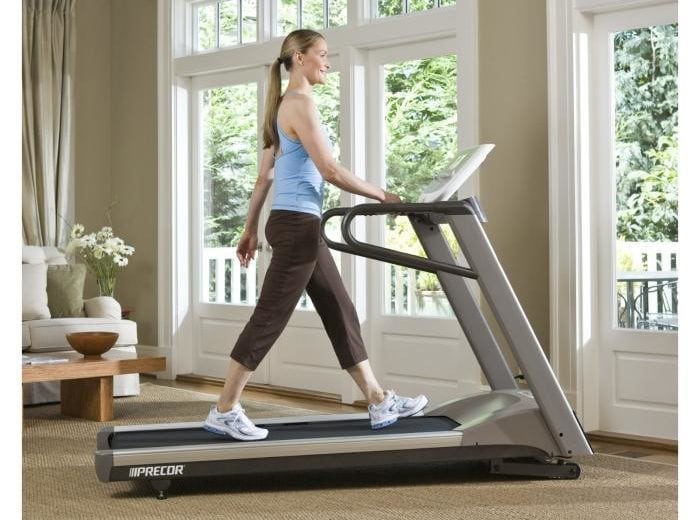 Using the treadmill at the gym seems like a lot of hassle on your part. However, you can avoid that problem by simply purchasing your own treadmill that you can use in your home.
Precor 9.27 Treadmill with Ground Effects Technology has become one of the leading brands when it comes to treadmills. The machine has the type of quality that matches those that are dominating treadmill sales. The product is currently one of the hottest commodities in the market today. Apparently, the demand for this product is high as supported by its current sales.
Precor 9.27 Treadmill with Ground Effects Technology is quality fitness equipment that allows you to do cardio and weight loss exercises conveniently. The machine has a patented ground effects technology feature to provide protection from impact on the front of the treadmill. Also, a firm surface for push-off is installed at the back. The running boards and the handlebars are made of aluminium. The qualities mentioned are perfect for fitness enthusiasts that are meticulous on the type of equipment that they are using.
Regardless if you're an athlete, a gym buff or a beginner, Precor 9.27 Treadmill with Ground Effects Technology is the perfect equipment for your cardio and weight loss exercises. Its dimension is 81 by 21 54 (L by W by H). It weighs 230 pounds – which is actually lighter than the majority of treadmills sold in the market.
You can fully concentrate on your workout because the machine does not make any loud noises when it's on. This helps you a lot because concentration is such an underrated aspect of working out. It is now sold at $2, 299 — $500 dollars off of its original price.
The ground effects impact control is what makes the machine different from the rest of the competition. This is because of its shock-absorbing quality that prevents fatigue from setting in, and even worse – injuries. The machine's Stride Support Technology adjusts your speed while walking or jogging on the platform.
The belt speed changes for 57 times a second at 12 mph. The telemetry also allows you to monitor your heart rate, cardio and peak target. Its touch button (user identification) helps you make your workout faster. You can do a number of programs using the machine, as it has 10 preset programs that includes Walk, Heart Rate, Weight Loss, Fat Burner, Interval, Manual, Hill Climb, 5 K track and lastly, 10K track.
Stability and durability are also key features of Precor 9.27 Treadmill instead of the smoke and mirror qualities – features and gadgets equipped on a treadmill. Its main focus is to help you get in shape, minus the fatigue and injuries. Others will try to wow you with the "high-end" features of their products; at the end of the day, what you need is a treadmill that actually helps you with your fitness goals. Precor 9.27 Treadmill does not focus on the aesthetics, rather the performance. If you're really bent on getting results, you should opt to have Precor 9.27 Treadmill in your home gym.
The multitude of programs alone is enough to convince you that the Precor 9.27 Treadmill is what you need going forward. While others will try to persuade you with their products' features, Precor 9.27 Treadmill is the real deal – effective programs that are applicable for your fitness needs.
So, why invest on something fancy, when you can spend your money the right way with a legit machine? Well, if you're guilty, it's not too late to turn it all around. Replace your old treadmill with Precor 9.27 Treadmill with Ground Effects Technology.
Related Links: