Proform Pro 2000 Review: The Best Buy in Folding Treadmills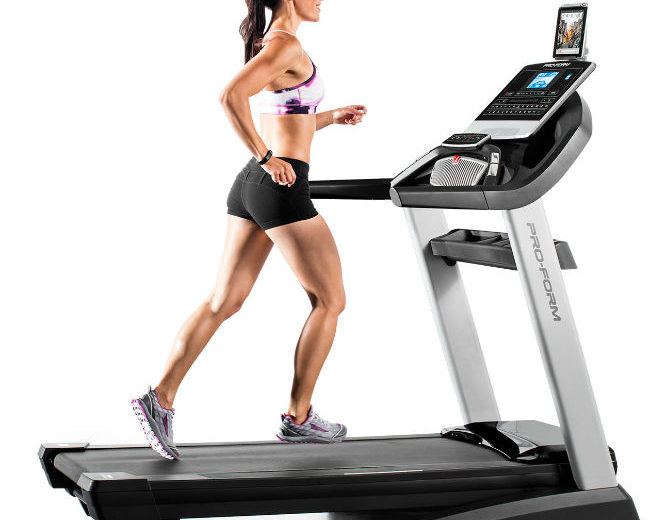 Have you ever heard of the ProForm Pro 2000? The ProForm Pro 2000 has been recognized as the ultimate solution for your cardio needs. Did you ever think of hitting the gym but is too lazy to do so because it is too far? Or, have you made a plan already but have to cancel it because of your busy schedule?
You try to put your fitness as a priority but there is always something to cut it out. Well, I believe that you just found what you might be looking for.
The ProForm Pro 2000 has been hitting off the market with its highlights and features. This article will bring you all the details and information you would want to know about the ProForm Pro 2000.
What is the ProForm Pro 2000?
The ProForm Pro 2000 is said to be the number one most sold item in the health and fitness category. I could not agree more. I mean, I have been using it for quite some time now and the results have been evident.
ProForm Pro 2000 is a solid machine in any angle, no matter what. The ProForm Pro 2000 is designed with high-quality and durable materials. Its sturdy and reliable construction has the ability to ensure a 350 lb user a full satisfaction.
Each and every year, the ProForm Pro 2000 never moves away from being called a must-buy fitness equipment. It has been updated and revolutionized with a new additional feature. All made to consistently meet the needs and satisfaction of the customers.
The Main Highlight of the ProForm Pro 2000
The ProForm Pro 2000 is every fitness enthusiasts dream. If you are speaking about having a great cardio exercise, the ProForm Pro 2000 can give you just that. It satisfies every runner's dream.
It has an easy-to-step on running surface and a wide deck. The ProForm Pro 2000 makes sure that your running experience is smooth and perfect.
Some of the features of the ProForm Pro 2000 includes:
Has a speed of up to 12 mph
Up to 15% incline
Capable of a 3% decline
Inclusion of a Polar heart rate chest strap
Compatible with MP3
A cooling fan
Has 32 programmed workouts
Has an access to iFit Live
The ProForm Pro 2000 has been improved to a whole new level with its revolutionized feature. Now, the ProForm Pro 2000 enables you to work more muscles, lose more sweat and achieve more results.
How Amazing are the Features of the ProForm Pro 2000?
The incline and decline feature allows you to intensify your workout. It provides you with an uphill and downhill training. With that, it lets you burn more calories by the minute of your every run!
Running has even made more fun because of the iFit Live. Basically, the iFit Live along with an iFit Coach membership, allows the ProForm Pro 2000 to mimic certain routes. The ProForm Pro 2000 will automatically adjust itself to mimic the roadway that you set with Google Maps.
The iFit Coach is an app that requires subscription for a service for all-in-one fitness training. It is as easy as downloading the app and docking your device or gadget on the console to get started. What is great about iFit Coach is that it is a library of high quality training videos.
There is no other way to better your running experience but with music! The ProForm Pro 2000 is MP3 Compatible. It has been made easy for you to add and listen to your favorite songs as you do your running sessions. There are speakers already available for your MP3. Also, a secure display shelf is made available for your tablet computer too.
The ProForm Pro 2000 is also programmed with 32 workout applications to give your sessions an extra lift! This 32 workout apps can help you further reach your fitness goals. This will provide you with more variations and efficient training workouts. Furthermore, it also includes a suggested diet advice and you could also log your daily runs. So you could better monitor your progress.
The Advantage of these Features for the ProForm Pro 2000
Given all of that, the ProForm Pro 2000 just continues to impress us as usual. Just only imagine running with a complete pack of essential that can make your run all worth while, and fun! All the extras provides the user with convenience and options to make him or her comfortable. While, at the same time sweating like crazy!
Furthermore, the ProForm Pro 2000 is designed to always keep your feet at ease while running because of the ProShox Cushioning. The ProShox Cushioning protects your joint and provides support while you run.
In addition, it is not only comfortable but also portable as well. This is because of its SpaceSaver feature which is designed with EasyLife Assist. It allows the ProForm Pro 2000 to be easily folded for easy storage. You can just fold it in and out whenever you feel like running. You will not have any hard time any more, or worry about getting it out because of its portability and convenience.
The Specifications and Other Technical Features
The ProForm Pro 2000 is designed to be user-friendly even to first time users. The equipment has a computer like functioning found accessible on top of it. It is labelled with clear instructions. So, you do not have to worry about having to understand the whole thing.
The Computer features include the following:
7" backlit LED display
32 profile programs
Incline control
Decline control
Speed control
Moreover, the ProForm Pro 2000 also displays the information you want to know. It makes sure that you can easily keep track of your progress. Also, the ProForm Pro 2000 shows the necessary details you need to know how much you are going to work for, etc.
The On-screen Information shows the following:
Calories burned
Heart Rate
Time
Distance
Speed
Incline/Decline
The information above can sound so little when just reading it. There is no other way to put ProForm Pro 2000 in words, other than "It works!". If you are aiming for sweat dripping, heart pumping cardio exercise, this is the treadmill for you! Not only does it help you achieve the results you want, but you get to have all of this in the comfort of your home.
The Pros of the ProForm Pro 2000
1. Portable
The ProForm Pro 2000 has a built-in feature that allows it to be easily opened or closed. This allows you to clear up space easily and store it properly as well. Its shock assist component makes it such an easy task to fold it. The ProForm Pro 2000 is folded into a vertical position by pushing the deck upwards.
2. Spacious Tracks
The very first thing that you would want for a treadmill is a spacious track. Of course, you would not want to fell the slightest of discomfort when running. You would want to feel at ease and that you can easily balance yourself in. Well, the ProForm Pro 2000 does just about that. It has a rear belt roller of about 2.5″ in diameter. This allows the treadmill to not wear out and tear the track. Although it is slightly thin as compared to a regular treadmill found in the gym. But, its quality is proven durable and exceeds industry standards when talking about its surface area and construction
3. Incline and Decline Feature
The ProForm Pro 2000 allows you to have options when running. You can either do it an uphill training or downhill trainig. Either ways, the ProForm Pro 2000 offers both. Because of this, you could further intensify your workout because of this options. It allows you to challenge different muscles of the body.
4. Motor Power
If you are looking for a treadmill, another thing to look out for is its motor power. You would want to look for something that is definitely powerful and reliable. In the case if the ProForm Pro 2000, it is powered by a spectacular 3.5 CHP commercial motor. It has a higher power capacity if compared to other competitors. Also given that it is for an affordable cost.
5. Variations of Program
The 32 programmed workout applications added an extra spice to the whole running workout. The different workout programs each has their own specific focus. For example, some workout programs focuses on weight loss. Others' main focus are on high intensity training, incline training, speed goals and more.
6. A Lifetime Warranty
There is no better cherry on top of a cake than a lifetime warranty. The ProForm Pro 2000 has a lifetime warranty for its frame and motor. The other parts are on a warranty too for 5 years. Lastly, an additional of two years of service is also given.
The Cons of the ProForm Pro 2000
There is not really much to say when it comes to the disadvantages or cons of the ProForm Pro 2000. It almost seem unbelievable, right? But, that is the mere truth.
The only thing that is commonly complained by the customers is their Customer Service. They often respond in a slower manner and get back to you to what seems like in ages.
Another thing is that they also have a small drawback when it comes to their online deliveries. Sometimes, when it arrives at your doorstep, there are missing, scratched or broken pieces. Even though it occurs rarely, still it is something that they should work on the most.
Lastly, some of their additional features, the iFit Coach in particular is sold separately. Other than that, the ProForm Pro 2000 works perfectly.
Who can Use the ProForm Pro 2000?
The ProForm Pro 2000 is designed with simplicity and to be user-friendly. Therefore, almost everyone who are fitness enthusiasts, or simply those who already knows the ability to run, are welcome to try it out.
Even if you are only a beginner or an advanced, the ProForm Pro 2000 can still meet the needs that you look for.
The ProForm Pro 2000 can deliver the same quality and performance to all levels of runners. May it be if you are an established professional runner, a specialized athlete who seeks extensive training or a beginner who needs the best treadmill there is, then the ProForm Pro 2000 can be your company on that journey.
Customer Reviews
There is no other way to verify something than to hear it from the experience of others as well. Below you will read different customer experiences when they used the ProForm Pro 2000.
The Gym Owner
"I own a gym just a few blocks away from another gym. The people coming in and out from our gyms are almost quite the same. However, when I tried switching my regular treadmills with ProForm Pro 2000, I noticed a significant change happen (the change happened slowly and after a few weeks or so). A few people that I have spotted working out on his gym are now signing up to mine and they are using the newly bought ProForm Pro 2000. I started to make a conversation to ask why did they switch gyms. As soon as I had the right moment of asking, I found out that the treadmill back on his gym was squeaky and unbalanced as compared to the ProForm Pro 2000. In this treadmill, they are able to workout better and comfortably."
Mommy Runner
"I am a mom with two kids. My work is full-time and have hardly enough time to workout. I have been gaining a few pounds slowly and my husband already notices them. I know he is fine with how I look. But, I want to feel beautiful and confident in my own way. I don't know how to make it happen though because I do not have free time to go to the gym. Until, I found the ProForm Pro 2000. Yes, it was a bit out of my budget range but it was definitely a worthy investment. I have been using it for 2 months now and the changes have been amazing. I can now be a full-time working mom and still have time to workout!"
Convenient in an Apartment
"I live in an apartment and far from a gym. My fitness is always a priority. So I looked for a health and fitness equipment online. Then, I saw ProForm Pro 2000 has so many reviews. All articles have been very convincing. But, I did more research and just found the same thing. I am very skeptical about online shopping but I took the risk and ordered one. Since, it is the one that seems to have all the commotion. Upon trying, it did not failed me all! Also, it is easy to store in my studio type apartment."
What makes ProForm Pro 2000 Better than Other Treadmill Brands?
There are tough competitions in the market when it comes to treadmills. Some treadmill companies also offer promising features and benefits. It is without a doubt that the game is tough when trying to stand out from the rest. However, that is one thing that the ProForm Pro 2000 managed to withstand. As what the famous saying goes, "when the going gets tough, the tough get going".
The one thing that the ProForm Pro 2000 manages to outshine the others from is because of its worth. At this price range, it is almost quite impossible to look for a treadmill that offers the same as what the ProForm Pro 2000 has. The ProForm Pro 2000's extra features and benefits makes it such a worthy investment.
Basically, the ProForm Pro 2000 can definitely give the other competitors a run for their money.
More About ProForm Company
ProForm Company is a highly reputable company that is known in the field of health and fitness. They are best recognized for selling affordable health and fitness equipment. While still with impeccable and high-quality performance.
Some of their products include elliptical machines, hybrid trainers, rowing machines and treadmills. There is more to what meets the eye with ProForm. Aside from their well-designed and constructed equipment, the performance of each equipment are proven powerful.
ProForm Company has been continuously having a flawless reputation over the years. But, of course, each company has their own imperfections in some way or the other. However, what is great about ProForm is that they manage to fix the things that are need fixing.
Furthermore, the ProForm company continues to exceed expectations. Moreover, they always keep the bars set high.