Check out the Jillian Michaels Treadmill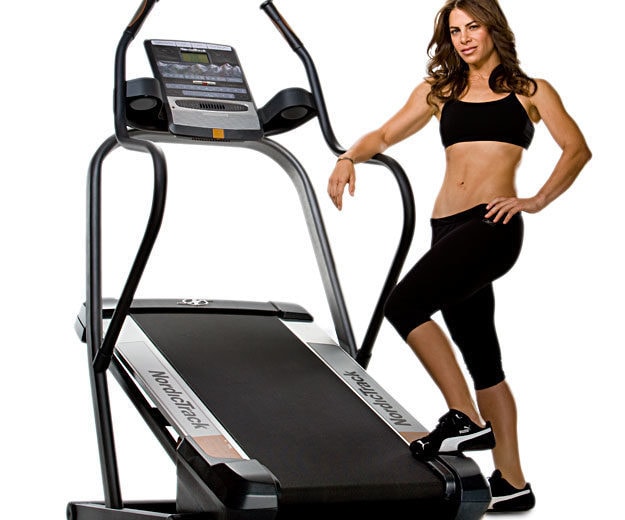 Most people know Jillian Michaels from "The Biggest Loser", which is a very popular American television show that helps obese people lose weight quickly. However, not only is she a long time personal trainer, but she has a series of videos, books, and workout programs that help people of all shapes and sizes to get more out of your workouts. One of the most popular methods of working out these days is the Jillian Michaels treadmill, which is considered to be one of the most efficient ways to lose weight.
 What Is the Jillian Michaels Treadmill?
Even though this is called a treadmill, it is much more like an incline trainer because of its ability to increase the incline by up to 40°. If you have ever used the incline function on a treadmill at the gym, then you know how much it can increase your heart rate and make your work out a lot more difficult. The Jillian Michaels treadmill uses this increase in exertion to help you lose weight, burn body fat, and get in better shape.
What Features Does This Treadmill Have?
This treadmill has a 2.8 hp drive motor that is able to go up to 10 mph in speed. It has an incline that goes from 0% to 40% and you can adjust the incline with just one touch of the console. This treadmill comes with nine preset incline training workouts and has a built-in heart rate monitoring system in the handlebars.
The Jillian Michaels treadmill has a built-in iFit feature that allows you to purchase iFit training cards created by Jillian Michaels so you can work out with her and have plenty of variety in your workouts.
One of the unique features of this treadmill that you will not find in the treadmill at your local gym is that it has a built-in media sound system so you can plug in your iPod or other MP3 player and workout to music or your favorite audiobook without having to put on a pair of headphones.
What Are People Saying About the Jillian Michaels Treadmill?
There are quite a few reviews online for this treadmill, many of which are written by people who used it is a way to lose quite a lot of weight, when nothing else had ever worked for them before.
"I have belonged to a gym for years, but I have to say that I have never gone they work out quite as hard as this."
–       Brian, CA (testimony from company website)
"This treadmill has really helped me get in shape and I feel more confident in my body than I have in years."
–       Marla, GA (testimony from company website)
A lot of people use the Jillian Michaels treadmill to lose weight, but others use it as a way to increase their athleticism, their cardiovascular strength, and to improve their competitive times.
 "I use the incline function as a way to get in better shape for running marathons, and it is certainly paying off."
–       Elaine, NJ (testimony from company website)
Where Can You Get The Best Deal On This Treadmill?
This is actually a somewhat difficult incline trainer to find in stores, but you can purchase the Jillian Michaels treadmill online right now. When you do, you will get the same warranty that you would get in your local sporting goods store, but this will be a lot more affordable.
Is the Jillian Michaels Treadmill Right for You?
Having a treadmill at home may seem somewhat unnecessary, but if you are overweight, out of shape, or you do not have the time or energy to get out and go to the gym, then the Jillian Michaels treadmill could certainly provide you with the opportunity that you need. By following the Jillian Michaels programs that come with this treadmill, you will see an immediate change in your energy levels, your body composition, and your aerobic capacity.
Related Links: