Super Equipment for Seniors On-the-Go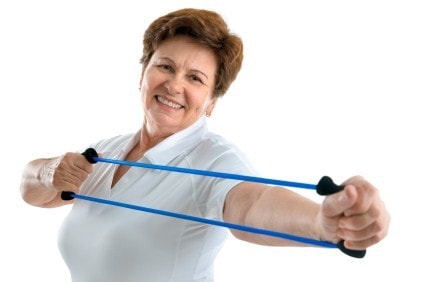 Most people if they become old makes every excuses not to exercise. Well, aging or old age is not an excuse to stay healthy. Exercise extends life. So if you are on your old age, be sure to take some movements and use equipment to exercise. You don't have to be afraid of it. Exercise will surely get all those body pains that you have been feeling for so long.
For first timers, eventually you will feel body aches because for so long you have not been into an exercise. But you should not give up on the first stage. There are exercise that is designed for you. It is for you to take that bold step to do the exercise.
With so many equipment to use in exercise, here are some basics for you to try.
Total Body Exerciser
This is an easy total body workout. It is lightweight, compact, portable, and most of all affordable. You can bring it everywhere, so you can do your exercise absolutely everywhere. The Total Body Exerciser offers a cardiovascular health benefits of riding a bike without having the need to leave your seat.
Avari Single Action Rower
This is also a full body workout. Very affordable compared to its effectiveness and efficiency. It works on the major muscle groups of your body and boosts metabolism. It has monitor to calculate your burned calories, workout time, stroke count, and total count. It stands upright and is very easy to keep.
Chair Exerciser
This equipment is very innovative. You can use any chair that you want to do this exercise. You will just need the Resistance Band Exerciser to do the magic. This machine tones and strengthens arms, shoulder, and chest muscles. Simply attach the base to any chair with the durable straps, have a seat, and use the resistance bands in various ways depending on your target area to work out. It has comfort grip handles and adjustable cords for multiple exercises.
Toning Ring
This equipment is very simple to use. It works on the arms, thighs, and legs by trimming and tightening it. The ring is durable and flexible. It works on your muscles through resistance. It has slip resistant contoured foam grips for added safety and comfort.
Overdoor Exerciser
This equipment tones, tighten, and stretches upper body. It uses the pulley system and its compact design makes you do your workouts everywhere as long as there is a door. It is affordable and has comfortable ribbed handles for a secure grip.
You can have all these equipment in an affordable price. It is very effective and works for those who are in their old age.
Related Links: