TEST HD by Muscletech Testosterone Booster Review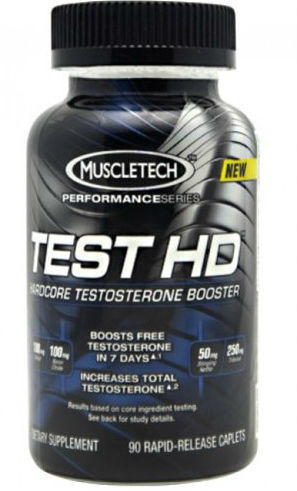 Testosterone is responsible for muscle build up and sexual drive. If this starts to decline due to aging or other reasons like heredity or lifestyle, it will be a frustration to men. Good thing that science has made its way to discover a cure for such disease. Experts have recommended Muscletech TEST HD Testosterone Booster to help men with low level of testosterone.
What is TEST HD ?
TEST HD by Muscletech is the first hardcore testosterone booster to include a clinical-strength dose of shilajit, a rare organo-mineral compound obtained from steep rocks of different formations found in the Himalayas and other high mountains.
Muscletech Testosterone Booster TEST HD is a sports nutrition supplement that contains vital ingredients that helps in enhancing testosterone levels of men. It has key ingredients shown in human clinical studies to increase active testosterone and support testosterone levels.
Ingredients of Muscletech TEST HD
TEST HD is formulated with scientifically researched ingredients such as shilajit and boron. It also contains other well known ingredients including stinging nettle root, tribulus and velvet bean. shilajit produces bioactive components such as fulvic acid and dibenzo-pyrones.
The supplement is formulated with an exact quantity of D-aspartic Acid which is known to play a crucial role in the proper integration of the body's testosterone. It also has Zinc gluconate which is a form of zinc that is easily absorbed by the body. This ingredient has been tested and proven by experts to help maintain the best testosterone production.
Muscletech Testosterone Booster has Vitamin B6, Vitamin B12, and Folic Acid. This supplement will not just help men achieve that lean muscle, it also cares about the totality of a man as a whole.
The Verdict
7.2/10
With its research and proven effectiveness, Muscletech TEST HD Testosterone Booster will help men achieve their wishes. It will improve man's muscle growth. It will also boost stamina. If a man is into sports, this supplement will enhance training performance. Most importantly, Muscletech Testosterone Booster improves general health.
Taking Muscletech Testosterone Booster is very easy. A man should take 1 serving or 4 caplets with a glass of water once a day in the morning with breakfast. You should not skip breakfast because this helps for a faster improvement in testosterone level. For best results, Muscletech Testosterone Booster should be coupled with a diet and a training program. This supplement should not exceed 4 caplets when taken in a 24hour interval. A person might get overdosed. Lastly, this is only for men.
Related Links: