Ultra T Male: Overall Male Health in a Bottle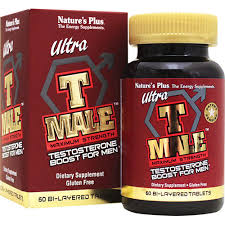 Using a testosterone booster is not entirely just about vanity, about getting you the help that you need to achieve the physique that you want, androgen enhancers also have a lot of great effects to our health and to the overall quality of life of people.
A healthy and a natural testosterone level helps your body in the promotion of a good brain function, mood, stamina, endurance, energy, vitality strength and sexual function. To help you get a normal level of androgen hormones naturally, Ultra T Male from Nature Plus is here to help.
This testosterone enhancer is a dual action, bi layered tablets that will help you nutritionally maximize in the healthy production of male hormones. The effectivity of a product depends on its ingredients, and one of the ingredients of Ultra T Male is Glucodox, which is an AMP activated protein kinase that is known to be a hormone booster.
The enzyme in AMP is the master regulator when it comes to production of hormones. Another ingredient is Tongkat Ali which is known as an aphrodisiac in many cultures, most especially in the South Pacific area. Fenugreek is also a part of the ingredient profile of Ultra T Male, since the ancient times, this has been known to be effective in promoting fertility.
Nature's Plus takes pride in the fact that their products are not only pro nature or vegetarian, it is also hypo-allergenic and gluten free. Ultra T Male promotes overall male health in the healthiest, most natural way.
Related Links: