TestroVax: Testosterone Boost in Just 12 Days!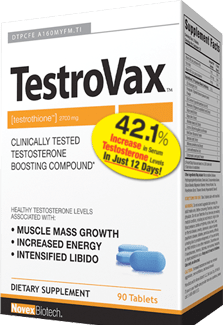 Who would not want to see or feel the results of what they have been working hard on in just a short period of time? We all want a quick fix, and that is what this natural testosterone enhancing supplement here is offering to us.
TestroVAx by Novex Biotech claims that it can increase the level of androgen in the body in just a matter of twelve days! In just less than two weeks! This testosterone booster uses an ingredient known as the Testrothione.
A double blind, placebo controlled research study was conducted to test of TestroVax really is effective in giving a boost to the body's testosterone level and the results suggested that the functional compound in this supplement can adequately support and enhance the ability of the body to produce testosterone.
For Novex Biotech, healthy levels of testosterone in the body in not only associated with a lean body mass, a well-defined muscular body and a growth of the muscle mass, it also means that there is an increased energy and strength to do the tasks expected of you and also sexual health, and that is what TestroVax is trying to deliver to customers.
Planning to take TestroVax? Read these precautions first. This dietary supplement is not for everyone, you actually have to be more than thirty years of age. You have to consult with your physician or healthcare provider first before taking this supplement.
TestroVax also has a lot of side effects like headache, sleeplessness, tremors, dizziness and palpitations.
Related Links: