Pre JYM by JYM Supplement Science Product Review – Worth it?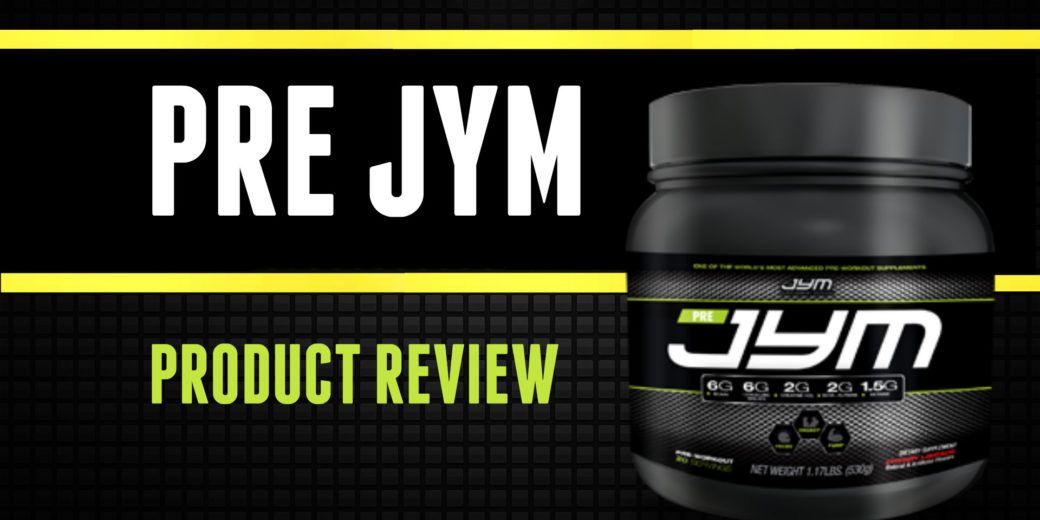 Pre JYM is one of the trending pre-workout supplements today. These workout supplements are designed to increase the performance of gym goers and become more effective inside the gym. Studies show that it can support the strength, endurance, energy, and gain of lean muscles.
In general, these supplements are formulated to stimulate your body. The basic building blocks of pre-workout supplements are caffeine, beta-alanine, amino-acids, creatine, and nitric-acid boost.
However, not all pre workout supplements are the same. Your gym buddy's formula might not be suitable for you. Thus these supplements must be in line with the body type that you have plus the range of exercises you do.
In this article, we'll discuss how pre-workout supplements were created, what are its benefits in the body, and what are the things to know about one of the popular pre-workout supplement today which is Pre JYM.
History of Pre Workout Supplement
The start of taking pre-workout supplements originated in the time of Ancient Greece. During this period, athletes consume huge quantities of wine and meat. They take herbal tonics and concoctions as well to increase their stamina and strength.
Meanwhile, in the 1910s, Eugen Sandow, advocated dietary control to enable muscle growth while Earle Liederman uses beef juice or extract to speed up muscle recovery.
Minerva and the Saxon trio uses coffee and cocaine during the 1900s to have a remarkable strength during exercises. Even Arnold Schwarzenegger in his early years drinks coffee before a workout, a practice which he shared with colleagues.
Some professional weight-lifters such as
Basically, stimulants were used by the majority of weightlifters during this period. However, in the 1950s, Irvin P. Johnson began to market protein powders which are egg-based, since bodybuilding became more competitive and popular. Modern techniques and equipment became widespread in the 1970s up to 1980s, which lead to the creation of the Ultimate Orange drink and creatine.
However, these pre-workout supplements received criticisms from users worldwide due to its side-effect. Such issues paved way for the creation of new stimulants with more advanced health formulation from the early 2000s until today.
Currently, we have various body building supplements which are the branched-chain amino acids (BCAA), protein, essential fatty acids, vitamins, glutamine, creatine, testosterone boosters, and meal replacement supplements.
Benefits of pre-workout supplements
Gains more energy
Caffeine in the pre-workout supplements can boost the energy during the workout. When you consume supplement with caffeine, your brain sends a message to the pituitary gland and it shall release hormones such as cortisol and adrenaline. These hormones are responsible for not feeling sleepy and tired inside the gym.
Elevate workout performance
Workout supplements are also made to let the gym goers train efficiently and effectively. It makes you feel good about going in the gym and ultimately it helps you train at your peak to lose weight or build body mass.
It makes you focused on the work ahead and it avoids mental strain.
Hitting the gym regularly without supplements can slack your performance but if you have the right amount of energy drink, you'll feel good about yourself and start to be inspired in achieving your goals accordingly.
Increase metabolism
Apart from gaining energy and increasing performance in the gym, pre-workout supplements can also increase metabolism and facilitate weight loss.
The caffeine content is proven by research to aid users in losing weight. It increases the bodily thermogenesis as well as the oxidation of the fat. In addition, caffeine can boost the body's metabolism and delay the onset of being hungry. Overall, pre-workout supplements can make you fit and lean even if you are not trying to lose some weight.
Recover fast
Lastly, pre-workout supplements can help you recover from a workout, even though it is taken before the routine starts.
The ingredients such as caffeine and creatine monohydrate will prevent gym goers from having intense bodily sores. It will also help increase the insulin and glucose levels right after exercises which will make one feel better quickly.
Pre JYM supplement
Company
The JYM Supplement Science was founded by Dr. Jim Stoppani. Dr. Stoppani has a major in exercise physiology and he has a minor in biochemistry, at the University of Connecticut.
In addition, he has been the personal health and nutrition consultant of celebrities like LL Cool J, Dwayne 'The Rock' Johnson, Dr. Dre, and Mario Lopez.
He formulated the JYM Supplement and he gives pride that his company is transparent on what kind of products they offer in the market. Dt. Stoppani makes sure that he assists every customer and he answers all their questions.
Some of the products the company offers are post active supplements, post carb vitamins, ZMA JYM, Omega and Alpha JYM, Shred JYM, and Pre JYM.
Pre JYM Specifications
The latest creation of the JYM Supplement Science with 13 hand-picked ingredients is the Pre JYM. This powder drink is available in different flavors which are Cherry Limeade, Orange Mango, and Raspberry Lemonade. The product can be bought at 20 or 30 servings.
The item dimension is 5″ x 5″ x 5″ and it weighs about 1 pound only. It is stored in a black high-quality plastic bottle with a good seal.
To drink this, mix one scoop of the powder in 14 ounces of water. Stir and take 30 to 45 minutes before hitting the gym.
The company advises its buyers to check with a healthcare expert first before using the product. In addition, those who are pregnant, below 18 years old, with medical conditions, taking medications, and caffeine-sensitive are not allowed to take the Pre JYM since it is a strong powder drink. It has soy content and it is produced in a facility that processes peanuts and other dairy products. This can react to users with allergies.
Moreover, the pre JYM shall not be used to cure, diagnose, or prevent any types of disease. The Food and Drug Administration has not evaluated the Pre JYM supplement.
Pre JYM ingredients
Creatine Hydrochloride-2 grams
CarnoSyn beta-alanine-2 grams
Betaine -1.5 grams
Taurine- 1 gram
N-Acetyl L-Cysteine-600 mg
50% of Alpha-Glyceryl Phosphoryl Choline -300 mg
Citrulline Malate-6 grams
Beetroot extract- 500 mg
Leucine-3 grams
Isoleucine-1.5 grams
Valine-1.5 grams
Tyrosine-1.5 grams
Caffeine anhydrous-300 mg
1% of Huperzine A-50 mcg
Piper nigrum fruit extract- 5 mg
Nutritional Facts of Pre JYM supplements
Dextrose
Natural and artificial flavors
Calcium silicate
Sucralose
Acesulfame potassium
Pre JYM behind the microscope
Raise energy levels
Branched-Chain Amino Acids (BCAAs) which are 2:1:1 (leucine, isoleucine, and valine). This is the ideal ratio in a workout supplement.
The Pre JYM includes 6 grams of
These amino acids are the muscles' source of energy. Leucine stimulates the protein synthesis while valine blunts fatigue which makes users do the routines longer.
Meanwhile, the Pre JYM includes 6 grams of Citrulline Malate which is known to be an energy booster. The research found out that taking Citrulline Malate can complete two routine repetitions in comparison to those taking placebos.
In addition, Citrulline Malate will increase ATP production to 35% just like the beet extract, which in turn would increase energy and recovery.
Improves muscle power
The 2 grams of creatine HCL, 1.5 grams of Betaine or trimethylglycine (TMG), and two grams of CarnoSyn beta-alanine supports muscle power. Since creatine is acidic, adding hydrochloride group on it will lower its pH level. Thus, it increases the solubility of creatine in liquid and helps prevent any stomach problems.
Creatine is acidic but adding hydrochloride group on it will lower its pH level. This will increase the solubility of creatine in liquid and helps prevent any stomach problems.
Moreover, Pre JYM has 1 gram of Taurine which is a specialized amino acid. This is important to improve endurance and strength of the muscles.
The Pre JYM includes 300 mg of caffeine and 5mg of Bioperine or the extract of the black pepper which can improve the endurance and decrease fatigue of the muscles. Caffeine and Bioperine will enable the body to bring workouts to higher intensity levels.
Makes one mentally alert
The Pre JYM has 1.5 grams of L-Tyrosine that can increase mental alertness, mood, and energy, especially during intense exercises.
The Alpha GPC or Alpha-glyceryl phosphoryl choline can increase the brain function and improve the mood. It can produce good mental stimulation and enable to perform work out without a crash, especially when combined with L-tyrosine, Huperzine, and caffeine.
It also includes 500 mg of beet extract or Beta Vulgaris L. The beet extract is rich in nitrates and the direct source of nitric oxide. This is responsible for improving the flow of the blood and the function of the brain and the muscles. This will further result to focus on workouts.
Meanwhile, the 600 mg of N-Acetyl L-Cysteine with an acetyl makes it more stable and allows the body to absorb nutrients versus a normal dosage of cysteine.
Lastly, the product also contains 50 mcg of Huperzine A which is an extract from club moss and it is known to be a potent brain booster.
Nutritional value of Pre JYM
For 20 servings of the powder drink, one scoop is equal to 26.5 grams. The amount per serving and the percentage daily value is as follows:
Calories-15
1% Carbohydrates-4 grams
Sugar-2 grams
Sodium- 220 mg (9%)
Pre JYM versus other brands
According to Dr. Jim Stoppani, the Pre JYM supplement does not have any proprietary blends unlike other brands and they firmly believe that everything must be written down on the label. The company doesn't care if other manufacturers steal their formulation so long as they are transparent in what kind of ingredients are included in the supplement that users take in their body.
Many workout supplements manufacturer would often mislead their clients and claim that what they offer are concentrated drink powders. However, for Dr. Jim, he didn't just cram ingredients such as arginine, caffeine, beta-alanine, and citrulline in 3 to 6 grams per serving. The product is revolutionary since it has 13 carefully selected ingredients which are 26.5 grams in one serving.
Lastly, the Pre JYM formula is almost complete with nutrients that the gym goers must need. It features proper dosage, unlike other brands. For example, it has 6 doses of citrulline malate unlike with other brands that are underdosed.
Pre JYM side-effects
There are people who tried Pre JYM and experienced good and bad side effects. Meanwhile, there are some who don't experience any effects at all.
There are some who said that the product is worth the money. On the other hand, there are those who said that the powder drink has an unpleasant taste.
In this portion, we'll discuss the negative and positive side effects of the Pre JYM supplement.
Creatine effects
Creatine, which is one of the ingredients in Pre JYM, can cause twitching of the muscle fibers. Highly refined creatine can also cause stomach problems. However, the creatine in Pre JYM is simple and it's not harmful.
The Research Editor of Diet Spotlight reports that he experienced intense side effects after using Pre JYM. It gave him headaches and it messed his stomach after a workout. In addition, creatine can trigger allergies and asthma.
But in essence, creatine is safe to use even in long term. Creatine is not the only ingredient in Pre JYM supplement and it is safe when used according to the instruction of the manufacturer.
Caffeine results
The Pre JYM contains 300 mg of caffeine each serving. The caffeine content is effective to accelerate the cardio muscular functions and the pumping of the muscles. Some clients claim that it improves their focus and motivation when hitting the gym. In addition, caffeine extends workout period for some people without experiencing jitters, headaches, or body crashes.
On the other hand, when users take excessive amounts of caffeine, this might possibly cause nervousness, irritability, insomnia, and rapid heartbeat. Thus, it is advised not to use Pre JYM with other products rich in caffeine.
Conclusion
In sum, many people are constantly trying to find ways to be strong, fit, and make gains. One of the trending products nowadays in the Pre JYM supplement. It is created by the team of professionals to provide the best results to the clients.
Apart from the positive effects of these supplements such as losing weight and gaining muscles, there are also bad side effects of using supplements. Some of these are experiencing jitters, headaches, trouble sleeping, flushed skin, anxiety, high blood pressure, chest pain, vomiting, numbness, and muscle cramps.
Before taking the Pre JYM, make sure that you have enough sleep, you drink plenty of water, and eat the right amount of foods moderately. Do cardiovascular exercises regularly, get enough sunlight, and stretch daily. Finally, always consult a health expert before joining the bandwagon of taking food supplements.