Beast Super Test by Beast Sports Nutrition Review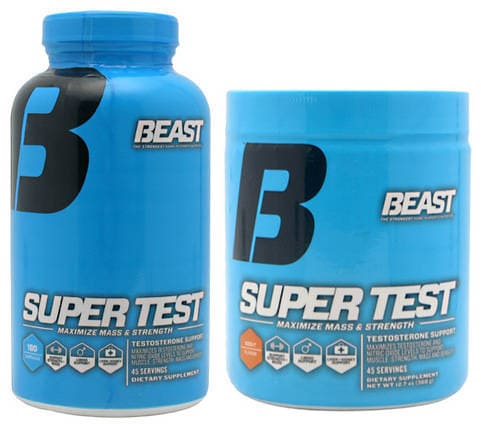 The common problem that aging men has is that their physique deteriorates because of poor performance at the gym and that is due to the natural cycle of the body.
In addition, the production level of their testosterone also decreases thus having some negative effects on their sexual performance at the same time. If this is the problem for you, you'd surely need a booster for both problems.
The great thing about supplement companies is that they never stop creating formulas that can benefit every man out there. This is something that men would want especially if it doesn't have any consequences to their health.
Beast Super Test
The Beast Super Test was marketed as the finest testosterone booster there ever is. This is a tall claim to make by someone especially that there are loads of testosterone boosters available today.
The main feature that this supplement has according to fitness enthusiasts is that it helps build their muscle mass, boosts the libido, increases overall strength, detoxifies and increases the production of testosterone in their system.
This is ideal for men who are experiencing the effects of aging because it can improve their workout performance and bring back their sexual activeness.
An increase in the testosterone level can improve concentration, motivation and enhance the energy levels.
This is something that every man will want because it will make them feel like young again.
Beast Super Test Ingredients
The ingredients of a supplement are very important and for Beast Super Test, it includes the following:
Zinc
Vitamin B6
Magnesium
Anabolic support complex
Cyanotis vaga extract
DHT control factors
Beast Super Test Effectiveness
A professional strength anabolic complex that maximizes testosterone and nitric oxide levels to boost muscle, strength, mass, and density.
The ingredients have undergone some research and those indeed are essential for boosting the testosterone levels.
It is suited for both experienced trainers and seniors to use because of its several performance enhancer effects.
For beginner athletes, it is not recommended to try the Beast Super Test yet because it is ideal to have some foundation supplements first.
After a few weeks use of this supplement, you will definitely experience an increase in lean mass and strength.
Beast Super Test Side Effects
Since this has been around in the market for quite a while, several users have reported that they have experienced some unusual side effects in using this product.
The symptoms experienced include stomach cramps, migraines, constipation and erection difficulties.
The Verdict
7.2/10
The Beast Super Test may have some side effects that are reported by the several users which seems unlikely to happen for most of users. Many have reported that it has increased their testosterone and libido levels instead of the other way around.
 Overall, The Beast Super Test has ramped up our workouts, improved vitality, energy, strength, and performance.
Related Links: