Animal Stak by Universal Nutrition Review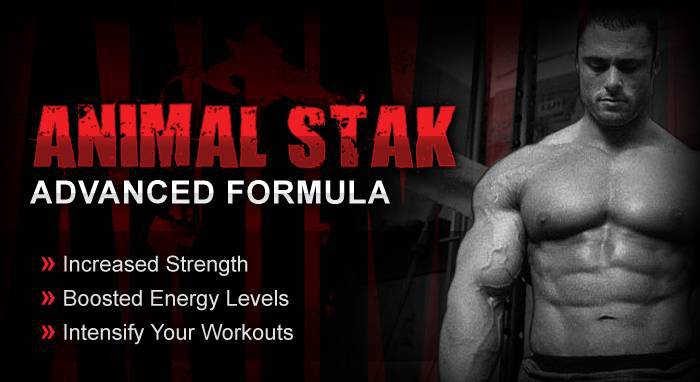 Body builders have passion in making their body fit and healthy. They want to get their bodies big especially their muscles. They wanted to have that ultimate strength so that they could win every competition that needs strength and endurance. Body building is also a sport. This sport needs a great amount of discipline or self-control.
Unfortunately, men who already are into their mid-20 up to 30's are experiencing less energy. They are more prone into much fatigue. So if these men are body builders, it will be the end of their career. If you are one of them experiencing a deterioration in you stamina, better yet check if you are experiencing symptoms of low levels of testosterone.
If proven that you really have low levels of testosterone, it will be a heavy burden on your part. But there is a solution to that. You don't have to end your career in body building just because you found out that you have low levels of testosterone. There are so many solution to your problem and that includes taking a testosterone boosting supplement.
Introducing: Animal Stak
One of the best supplement that helps in testosterone levels is Animal Stak. This is a complete anabolic support vitamin stack that supports testosterone levels in athletes like you that are looking for optimize strength and performance. Animal Stak is a complete all around anabolic hormone booster. It enhances output of testosterone and GH through natural means. It also contains specialized hormone amplifiers to help optimize ones internal anabolic environment. Animal Stak also includes restorative support nutrients to enhance muscle recovery and repair.
What Sets It Apart?
Animal Stak addresses three key issues that sets it apart from other testosterone boosting supplement. First is it addresses the testosterone levels of a person. So if it is low, Animal Stak revives it in a natural way. Second is this supplement finds addresses the nutritional deficiency of a person that may cause the lowering of testosterone level. And the last is, Animal Stak prevents testosterone hormones to be converted into estrogen and DHT. These three area are being focused by Animal Stak to give the best results to its users.
The ingredients of this supplement are natural and each one serves a distinct purpose. Animal Stak comprises Longjack extract, Tribulus extract complex, Arginine Ketoisocaproate, Mucuna pruriens extract, and Avena Sativa extract. These ingredients helps in the natural testosterone production and growth hormones. Other ingredients blocks DHT.
History of Animal Stak
The first prohormone-free Animal Stak was introduced about 9 years in the past, despite the fact the particular formulation seemed to be cutting-edge during that time, non-hormonal, anabolic products making use of natural hormone enhancers remained within their startup phase.
Just about 10 years after, a lot of completely new substances have developed onto the stage, exceeding expectations. Say hello to the all-new and much better Animal Stak, This completely new as well as enhanced version has probably gotten the most powerful aspects of its forerunner, blended this together with brand new nutrients and turned the idea to a higher level. Animal Stak has always been developed upon becoming a full anabolic hormone stack.
Animal Stak is not only a testosterone enhancer, additionally, it is a:
GH Support Complex – this kind of complex involves specific natural growth hormone (GH) enhancers and service agents. Growth hormone is known as a protein-based polypeptide hormone composed 191 amino acids, which is produced and released through cells within the anterior pituitary known as somatotropes. GH runs an important role in lots of advance physiological techniques.
Natural Test Complex – the important substances in this are tribulus and longjack along with avena sativa.
Aromatase Inhibitors
DHT Blockers – DHT or Dihydrotestosterone is regarding to baldness in most cases in men but can also occur with women too. This brings about your own hair follicles to inevitably stop working.
Liver Detoxifiers – Milk thistle is the vital component here. The particular dried fruit of milk thistle consist of flavonoid complex generally known as silymarin.
Vasodilator Complex – This is made up of arginine Alpha-Ketoglutarate and also arginine HCL. AAKG actively works to raise your nitric oxide levels.
Cortisol Inhibitors
Vitamin/Mineral Support
The Amount to Use When Taking Animal Stak
To start with, getting started with the consumption of the Animal Stak supplement, the individual is required to use it on a regular basis. In the event the individual works out, then he must take it 30 minutes ahead of training.
In the several days while he is simply not with any type of itinerary, the individual can take it before eating anything. For a most effective outcome, the individual needs to continue with the schedule so that the supplement will work and something can observe great results.
For an individual who's not really aware of the product, he could study and read evaluations concerning this over the internet. Individuals must not go beyond any endorsed dosage because this can cause problems the physical condition.
Animal Stak possesses a variety of powerful testosterone boosting ingredients including vitamin B6, magnesium, zinc, fenugreek, stinging nettle root and also L Dopa. These components will guarantee pretty good testosterone good points.
Pros and Cons
Those who already have used Animal Stak reported advantages of using it. Your strength will increase using this supplement. It will also boost muscle density. It will increase your energy and you will be less fatigue. And Animal Stak is not expensive.
Aside from its advantages, there are some who reported its side effects. Animal Stak may cause irritability. You will also take a lot of pills when you use Animal Stak. You might also experience acne breakout and some aggression.
So, if you are a body builder or a lifter that looks for a natural anabolic edge you can try Animal Stak. Or you are an athlete that wants to avoid prohormones, you can buy Animal Stak to feel the difference.
Pro's:
Strength increases
Boosts muscle density
Increased energy
Less fatigue
Con's:
Causes irritability
A lot of pills to take
Acne breakouts may happen
Some aggression
The verdict
8.7/10
Animal Stak has made a great reputation in boosting testosterone. It has produced great results on consumers and it costs less. Animal Stak creates the ideal balance of testosterone, DHT, and estrogen in your body which is what leads to ideal muscle mass and bulking up. Animal Stak has cranked it up to the next level.
For individuals that choose to enhance their power and stamina levels, they need to try Animal Stak. Similar to many other supplements, this can be intended for use by individuals who wish to improve their capability to execute athletically.
And for those who in particular are muscle builders as well as athletes, this supplement is extremely suggested mainly because it helps them to achieve much more muscular strength together with mass. Good muscular strength as well as a healthy body guarantees more effective function of the particular person.
Related Links: