Tribulus 750: The Original Powerlifter's Secret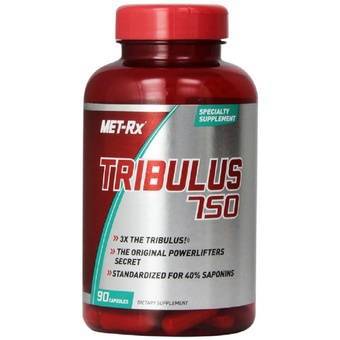 Dubbed as the original powerlifter's secret, Tribulus 750 is undeniably extremely popular among bodybuilders because it fits right into their hardcore workout. Another reason of why it is widely used among fitness enthusiasts might be because of its price, you can get about a month and a half's supply of Tribulus 750 for only $10. But is it a safe and an effective choice and is it really worth the price? We'll give you the facts and you be the judge.
Tribulus 750
This product was developed by a company that is popular for manufacturing and distributing bodybuilding supplements, this developer is MET-Rx. Tribulus 750 works in a number of ways, first, it helps to greatly boost your energy levels so that you can workout longer and help you have a more effective muscle development. Because of that, strenuous exercises will become easier for you, you will also be able to have a slower and a more controlled movement instead of just jerking or swinging the weights when you are working out.
Tribulus 750 also helps burn fats, the extra testosterone will help lead to a more effective weight loss. This supplement is also a very famous libido enhancer, users have reported an increased sexual appetite after they start using Tribulus 750.
This testosterone boosting supplement should be taken by adult men for one to two times per day. If you are taking any medication or have an existing medical condition, consult with your doctor first before taking it. If any adverse reaction occurs, immediately discontinue using the supplement and have yourself checked up by your healthcare provider.
Ingredients
The main ingredient of Tribulus 750 is Tribulus Terrestris, it also contains gelatin, Cellulose, Silica and Vegetable Magnesium Stearate. All of those mentioned ingredients are considered safe for  frequent human consumption, although, this does not exclude the possibility of these ingredients changing their behavior once they interact with each other. Tribulus 750 has been lab tested for 40% Saponins per serving, this is to make sure that you receive the active components of the supplements.
Side Effects
There were users who reported incidence of acne outbreaks, difficulty of sleeping at night and another individual experienced having a very stubborn erection. We therefore conclude that Tribulus 750 is certainly not free of any side effects.
Conclusion
Tribulus 750 is a good testosterone boosting supplement for its price, a bottle of this supplement which contains 90 capsules is worth $10. Just watch out for the occurrence of any side effects.
Related Links: