Intensify Your Power with Decacor Creatine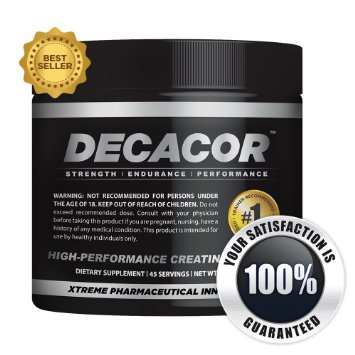 Do you want to have an intense workout? Is your body weak, and you need to have some of that mighty power from within? Do you want to have a long lasting endurance in your performance? Do you want a "super body" with superb muscle strength? Do you want to increase your focus and performance? Decacor Creatine is the right one to help you.
Decacor Creatine
Athletes and other sports enthusiasts are looking for supplement that will help them in their physical activity. They need booster to enhance their power and endurance. Decacor Creatine is a supplement that was developed specifically to meet the needs of the modern athlete and sports enthusiasts. This was completely manufactured using advanced technology. Decacor is the most cutting-edge creatine product. This supplement increases your creatine intake more than the average creatine supplement. So if we are going to talk about creatine products that is effective, Decacor Creatine is the one recommended by many especially the athletes.
Decacor Creatine is fueled by 10 most scientifically validated forms of creatine. This is what makes it unique among other creatine products. The ten perfect blend of Decacor Creatine are CreaPure, Creatine Ethyl Esther, Kre-Alkalyn pH Correct Creatine, Creatine Anhydrous, 2CM Di-Creatine, Creatine Alpha-Ketoglutarate, magnesium Creatine Chelate, Tri-Creatine Malate, Creatine Citrate, and Di-Creatine Orolate. These has supported by years of research to be true in rapidly building strength and size.
Some people wonder why Decacor Creatine has many varieties. This is because each creatine type offers a different benefit. Some absorb more quickly while others absorb more efficiently. Some creatine types found in Decacor Creatine reduce the risk of side effects while others offer additional muscle building benefits. When all these creatine types are combined in one product it will give you the ideal supplement that your body needs. It will create the ideal environment for muscle growth and strength gains.
Is It Safe to Use?
Athletes will really find it hard just to have the best supplement that will suit them in its effectiveness and budget. Some athletes have tried so hard with all Creatine products offered in the market. Most of them are afraid to take products with creatine because it might cause renal problems when taken in excess. This happens if Creatine is converted into Creatinine when it contacts with water and can cause a buildup of formaldehyde inside the body.
Fortunately, there is Decacor Creatine. This supplement has no creatine associated with Creatinine conversion so there's no way for you to be anxious and afraid. Decacor Creatine doesn't pose any risk for your body.
How to Use This Supplement?
The first 5 days will be the Loading Phase. In this Phase take 2 scoops with 12 ounce of water or fruit juice immediately upon waking up in the morning and 2 scoops in the afternoon, preferably after your workout. The next phase is the Maintenance Phase. Take 1 rounded scoop of Decacor Creatine immediately after exercise with 8 ounce of water or fruit juice. On non-workout days, take 1 scoop immediately upon waking up in the morning. Drink at least 8 glasses of water daily when supplementing with creatine.
Related Links: