GAT Testrol Potency Activator Review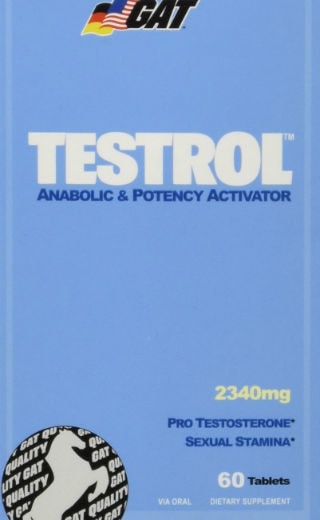 Testrol is a scientifically advanced formula designed for dual purpose administration – to build muscle and increase sex drive. If you are on an anabolic cycle, or you are near to the end of the cycle, you should try Testrol.
This supplement uses the optimum ingredients available which makes it a superior grade sexual catalyst. It is formulated to boost sexual endurance and stimulation. Testrol contains the ultimate blend of eleven components relative to testosterone that are clinically proven to build muscle. It is a powered-packed formula containing 2000mg of high potency ingredients. 
Powerful Ingredients
L – Arginine and Epimedium is an ingredient of Testrol that opens the way for more blood to enter the penis for better erections.

Tribulus Terrestris increases testosterone production by first increasing the secretion of the Luteinizing Hormone. This hormone signals the testes to increase its testosterone producing activity.

Avena Sativa. This increases the free testosterone level.

Macuna Pruriens is an ingredient of Testrol that increases sperm production.

Fenugreek is the ingredient that increases the testosterone level.

Cnidium Monnier which solves the problem in erectile dysfunction.

Xanthoparmelia Scabrosa is the ingredient that relaxes the smooth muscle walls of the penile chambers which allows more blood to flow in.

Zinc, Magnesium, and Selenium. These three mineral are key to all the biochemical reactions in the body which is responsible for and related to the production of testosterone. Moreover, Zinc increases nitric oxide which improves erections, Magnesium strengthens muscles, and Selenium increases sperm production.
These ingredients make up the testrol which is so powerful in increasing the level of testosterone. Any supplement that has Tribulus Terrestris and L-Arginine can be trusted because these two are scientifically proven and has been tested for years. So with testrol, it has these two powerful ingredients plus the other ingredients that made it so effective.
The recommended dose for this male enhancement supplement is 2 to 3 tablets daily for an 8 week cycle. Another good thing about this male enhancement supplement is that it can be bought without a prescription. It is safe to use and has reliable claims in its effect in increasing the levels of testosterone in a man's body.
The Verdict
7.4/10
GAT Testrol is made up by a reputable supplement company whose reputation rests on the entire line. So, there's no way that they will let their product like Testrol ruin their image in the market. It is also affordable so you can try it without having any regrets.
You can buy Testrol online or to some supplement retailers. Although people have been using the product for years, there has been no complaint of Testrol has side effects.
Related Links: