Anabolic Freak by PharmaFreak Review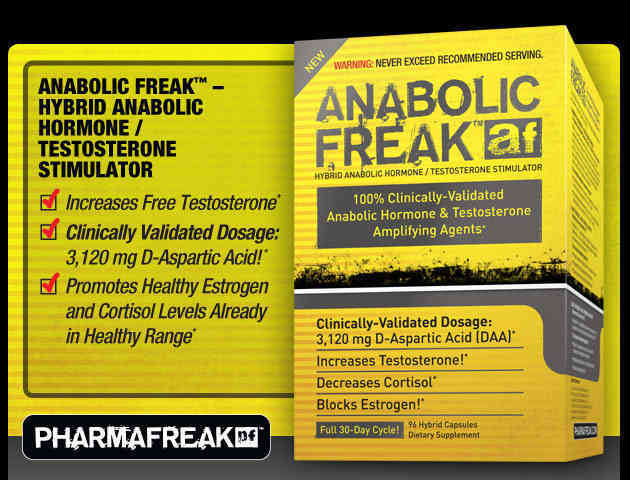 Since the arrival of the internet and the web shopping that came with it, consumers have been cautious about the products they want to buy. They search for the company that made it to the top, learn about the products they can offer, know in depth knowledge about the chemicals that make the product and hear out what other customers have to say.
Body builders are no exception. They too are now cautious as to what they take to aid their progress, what to eat and what to do. Present studies found out that testosterone boosters are more effective and are safer than steroids.
Let us take a closer look at this available testosterone boosters in the market: Anabolic Freak
The Banner
Anabolic Freak has its banner saying it boosts testosterone level through D-Aspartic Acid (DAA). With DAA as its active ingredient, Anabolic Freak stimulates the natural testosterone production of the body. It also has fundamental estrogen and cortisol controlling agent so that the body will not cancel out the added testosterone production.
What's Inside?
Anabolic Freak has the following key components:
D-aspartic Acid (DAA) – an amino acid that helps in sperm cell and sex hormone production.
Vitamin D – Vitamin D deficiency significantly lowers testosterone levels.
Vitamin B6 – It aids in the regulation and the production of testosterone. It is also known to help in treating problems with erectile dysfunction.
Folic Acid – also called vitamin B9. It helps in preventing the production of abnormal sperm.
Vitamin B12 – a vitamin that keeps the blood cells and nerves healthy.
Resveratrol – reduces the production of estrogen in the body.
Positive Area
Anabolic Freak is known to increase testosterone levels naturally as well. Its key components are known to help you grow muscles faster, increase anabolic state and prolonging it as long as possible, increase your strength and increase libido. It also controls estrogen, the female hormone, and cortisol, a hormone that helps in digesting fat, protein and carbohydrates.
The Gray Areas
Anabolic Freak has effects on estrogen production. Estrogen deficiency has been found out to give a risk with Osteoporosis Type I and Coronary Heart disease. Cortisol controlling may also disrupt normal body functions. Cortisol, at a heightened level suppresses the immune response which may put a person at risk with infection.
Consumers of Anabolic Freak 320 have reported side effects such as diarrhea, intermittent headaches, insomnia and mood swings. Although it has great ingredients and it is quite effective in muscle development and growth, one must decide if the highlighted side effects will be acceptable.
The General Idea
The search for the best testosterone booster has yet its debate. Product satisfaction and its side effects are different in every person. Some would want to be assured with lesser or even the absence of risk, with the outstanding muscle building and growth. Others will stand a product's adversities as long as he reaches his aims with how he looks. Side effects may not show on a few.
The Verdict
6.5/10
Anabolic Freak has a great combination of ingredients. Its effectiveness in muscle growth and development is quite outstanding. Regrettably Anabolic Freak had side effects that were mentioned above. Although it has great ingredients and it is quite effective in muscle development and growth, one must decide if the highlighted side effects will be acceptable.
Related Links: