Balancing Work and Exercise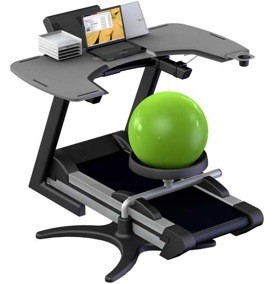 Busy schedule keeps a person from being healthy. This is the problem of most office workers. Due to demands and pressures at work, a single exercise would not be possible. As a result, most office workers are stressed. This stress leads to depression, illness, and eventually cancer. This extreme happens if a person lacks exercise.
Too bad for those people who died due to this reason. Many businesses and offices are making their way on how to satisfy their workers. Many of them tried strategies to prevent absences due to sickness. But most of them fail.
However, it is not a problem anymore today. With high technology and innovations, problems with office workers absences due to sickness was lessened. Experts have come up with exercise equipment for workers to use even during business hours.
No exercise will lead to sickness then absences. Thanks to this innovation that many of office workers today are healthy and satisfied. The following equipment are those used by offices today for their workers.
Balance Discs
This is commonly known as the air pillow. It is circular in shape and is filled with air. Balance Discs are used to improve balance. This doesn't consume much space so this is recommended for office use. You can sit on it or stand with one foot. So while you are answering phone calls, you can use this to exercise your balance.
BOSU
This looks like an exercise ball that is cut into half. BOSU stand for "both sides utilized". This is a functional training tool that has an inflated dome side and a hard plastic flat side. The good thing with this is it works on stabilizing muscles in your abs and lower body.
Resistance Bands
These are made of rubber that is of course durable and a hard plastic handle. It can be kept easily. You can use this equipment as shoulder presses, lateral raise, triceps extensions, back rows, bicep curls, and lunges throughout the day.
Treadmill Desk
This is a very good innovation. It is walking while working. This equipment has a work station complete with computer screen, keyboard, and treadmill. This is very effective because you will not eventually know that you are even exercising because you are so caught with your work. Pretty amazing.
Stability Ball
This is also made of durable rubber and has air inside. You can make it as a chair all throughout the day. Stability ball will help you align your posture. You can do various exercises with this ball, you just have to be resourceful and creative.
Indeed exercise is not a problem anymore for those people who really intend to do it. If you are lazy, then this still won't work for you. There are still lots of equipment if you like. But it depends on your need.
Related Links: