Ketogenic Diet: Your Complete Guide and Meal Plan to Ketosis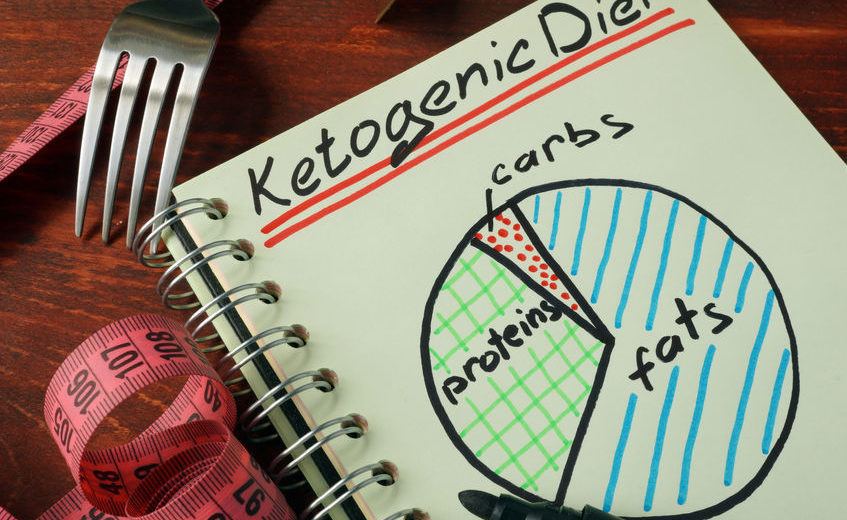 What is a Ketogenic Diet?
The ketogenic diet or ketosis diet plan is one of the most popular methods to lose weight. It does not only bring several health benefits to the body but it also improves the emotional and mental state of a person.
The diet plan started in the 1920s to treat patients with epilepsy. It is believed that the cure must start in the food they take such as changing the amount of food or fasting. However, fasting for a long period of time brings danger to patients such as making them dizzy and giving them low levels of energy. Thus, the ketogenic diet was developed.
A Study Says
The researchers of Johns Hopkins Medical Center in Baltimore, Maryland have found out that if patients reduce their carbohydrate intake, seizures will less likely to occur. Furthermore, they found the ketogenic diet to be effective and introduced it in patients suffering from diabetes, cancer, and Alzheimer's disease.
What to Consume
The ketogenic diet requires low-carb, adequate protein, and high-fat while it burns body fats. It has three types which are the standard, cyclical, and targeted ketogenic diet.
Most of us consume high levels of carbohydrates to function every day. Our bodies use glucose or sugar as energy. Glucose does not produce naturally in our body, therefore we need to eat foods rich in glucose. Our body can only store glucose good for 24 hours in our liver and tissues. Once we stop consuming foods with glucose, our body will burn fat instead.
When to Consume
'Ketosis' happens when the liver breaks down fat into glycerol and fatty acids (or beta-oxidation). This allows the production of acetone, acetoacetate, and beta-hydroxybutyrate which are ketone bodies or ketones. These three types of molecules are water-soluble. When a person is in ketosis, he fueled up using the ketones rather than glucose by burning the fat.
Ketosis is easy to achieve and it is straightforward. However, it can be confusing and complicated especially if it is your first time to hear such term. To guide you, here are some of the things you need to know:
Decrease your carbohydrate intake
Limit both net carbs and total carbs because most people tend to only focus only on net carbs. Limiting both aspects will give you better results. Stay below 20 grams net carbs and 35 grams of total carbs each day.
Do not worry about fats 

You don't lose weight through starvation in the ketogenic diet, so make sure that you are eating enough of fat. Remember, fat is the major source of energy in the ketogenic diet.

Do Exercise 

Start exercising now since it is good for the body and it is healthy. Add 20-30 minutes of exercise once a day, to get the optimum results of the ketogenic diet.




Drink plenty of water 

Make sure that you always drink lots of water each day and you are staying consistent in your water intake. It helps in regulating several bodily functions and helps control levels of hunger.

Restrict yourself from too much protein consumption 

If you have too much protein, ketosis is limited. Ideally, you can eat between 0.6 grams to 0.8 grams of protein per pound lean body mass.
Benefits of Ketogenic Diet
Lose weight
There are multiple benefits of the ketogenic diet. The first benefit is to help in weight loss. Nowadays, the majority of people are obsessed with losing weight to fit the demands of the society and to prevent diseases.
One diet plan is cutting calorie intake and fat content while eating foods rich in carbohydrates. Indeed, this has multiple health benefits, however, it is hard to sustain over time. Many people result in binge eating in the long run because they get hungrier as calories are cut in their diet.
When we eat a small amount of food with carbohydrates, less insulin is released. When insulin is produced in a minimal amount, energy or fat is not stored in the body anymore.
Overeating will ultimately result in weight gain and other diseases but undergoing ketogenic diet can reverse such habits.
Improve performance
This diet can also help to increase mental and physical performance. With the increased consumption of fatty acids, it can help you focus and concentrate better on your daily work at school or at home.
In addition, it enables you to have enough energy for a whole day of activities such as taking examinations, working in the farm, and lifting weights in the gym.
Therapy for brain and neurological disorders
Glucose is essential for our brain to fuel several bodily processes. This type of diet is helpful for those who suffer from epilepsy especially in those cases that don't respond to medication.
In a recent study, it has been found out that seizure is less likely to occur in children who undergo ketogenic diet. In some cases, patients become seizure free with constant usage of the diet.
Protect against heart diseases
This diet will also prevent heart diseases such as cardiac arrest, stroke, hypertension, hypotension, atheroma, and other cardiovascular diseases since it is a diet which consists low-carb and high healthy fats like fish, nuts, and olive oil. This can also decrease the likelihood of infections and complications because of heart ailments.
Heart diseases that people experience today are caused by inflammation which is due to eating unhealthy foods. Such foods include trans-fat, sugar, and junk foods.
Prevent Diabetes
The ketogenic diet is helpful too for people with type 2 diabetes and those who don't have insulin medications. This is also one of the best remedies for those who are previously suffering from diabetes and wishes to reverse their condition.
Since this diet limits the carbohydrate consumption, it also decreases sugar and other processed food intake. In addition, it improves dyslipidemia and the immune system to fight diabetes.
It must be noted however that people who suffer from diabetes must always consult their doctors first before engaging in the ketogenic diet to make it successful and safe.
Protect body against Cancer
Studies show that the ketogenic diet can starve and kill cancer cells in the body. Processed foods which are low in nutrients can cause the cancer cells to increase in numbers. But since the ketogenic diet is a low-carb and low-sugar diet, it can effectively reduce or fight cancer.
This type of diet should be followed by anyone especially to those whose family have a history of cancer. The ketogenic diet can prevent several cancers such as colon cancer, lung cancer, bone cancer, and others.
What Do You Eat On A Ketogenic Diet?
The ketogenic diet must always start with a plan. The more you restrict yourself with carbohydrates, the greater chances of letting yourself enter into ketosis.
The first step is to limit your carbohydrate intake, i
nstead eat dairy products, nuts, and other vegetables Avoid from eating processed carbs such as wheat, cereals, pasta, bread, doughnut, cookies, and other baked products. Also, prevent sugar or sweet foods such as maple syrup, artificial sweeteners, diet soda, and honey. There are also fruits to avoid in this diet such as bananas, apple, and oranges.
Foods to eat
You can eat star fruit, berries, or avocado which must be moderately consumed. Also, consume dark green and leafy vegetables like spinach, broccoli, kale, and cauliflower.
Nuts and seeds such as macadamias, sunflower seeds, and walnuts are also included in the diet. In addition, essential oils like coconut oil which is high in saturated fats must be consumed in the ketogenic diet.
The ketogenic diet is low in carbohydrates, moderate in protein, and high in good fat. Your diet is ideally to be 70% fats, 5% carbohydrates, and 25% in protein.
Usually, 20 to 30 grams of carbohydrates is the ideal consumption for ketogenic diet in everyday use. However, the lower you consume carbohydrates, the likelihood to achieve better results in the future.
Keto Diet 7-Day Meal Plan
Ketosis takes time before you finally get into it. It takes about two weeks of letting your body adapt to eating low carbs diet.
One of the good things about the ketogenic diet is it doesn't lose muscles in comparison with carb-based diet plans. In high-carb, restricted calorie kind of diet; both the muscle and body fats are affected. Meanwhile, in a ketogenic diet, you can burn fat without affecting the body muscles. This leaves you with a better physique after weight loss or called as body recomposition.
This is a sample menu of the ketogenic diet good for one week. This meal is created to enable you to have three healthy meals each day that can address satiation, protein intake, and fiber consumption.
Keto Diet Meal Plan Day 1 – Monday
Breakfast – Salty Sage and Cheesy Waffles
Ingredients
1 1/3 cup coconut flour, sifted
3 teaspoons baking powder
1 teaspoon ground sage, dried
salt
¼ teaspoon garlic powder
2 cups canned coconut milk
½ cup water
2 whole eggs
3 tablespoons coconut oil, melted
1 cup cheddar cheese, shredded
Procedure
In a mixing bowl whisk together flour, baking powder, and seasonings.
Add liquid ingredients, then stir until stiff batter forms.
Mix in the cheese.
Freely grease top and bottom panels of the waffle iron, then place a 1/3-cup scoop of batter onto each iron section. Close the iron and cook until steam rises from the machine and the top panel opens freely without sticking to the waffle. Proper cooking usually takes 2 cycles at moderate heat.
 Nutrition Facts: This makes a total of 12 servings of Savory Sage and Cheddar Waffles.  Each waffle comes out to be 195.5 Calories, 17.47g Fats, 3.49g Net Carbs, and 5.49g Protein.
Lunch – Mustard Sardines Salad
 Ingredients
1 can (4-5 oz) sardines in olive oil
¼ cucumber, peeled and diced small
1 Tablespoon lemon juice
½ Tablespoon mustard
Salt and pepper to taste.
Procedure
Drain most of the olive oil from the sardines.
Mash up the sardines.
Combine the sardines, diced cucumbers, lemon juice, mustard, and salt and pepper. Mix well.
Nutrition Facts: Calories: 260 | Fat: 20g | Net Carbohydrates: 0g | Protein: 25g
Dinner – Beef Curry
 Ingredients
1 lb beef round or other boneless cuts, cut into 1-inch cubes (I like to use boneless short-ribs)
onion, sliced
1 Tablespoon curry powder
ground cumin
ground turmeric
1 tsp cardamom
¾ cup of coconut milk
10 button mushrooms, diced
1 teaspoon freshly grated ginger
2 cloves garlic, minced
¼ cup fresh basil leaves, chopped
Procedure
In a saucepan, saute the beef and onions in coconut oil over medium heat for 5-6 minutes until the beef is browned.
Add the spices, coconut milk, carrots, bell peppers, mushrooms, and fish sauce. Bring to the boil, then cover and simmer for 1 hour until the beef is tender.
Add the chopped basil, garlic, ginger, and salt to taste and simmer for 10 more minutes 
Nutrition Facts: Calories: 440 | Fat: 33 g | Carbohydrates: 11 g | Sugar: 2 g | Fiber: 4 g | Protein: 25 g
Keto Diet Meal Plan Day 2 – Tuesday
Breakfast – Cheesy Bacon Chive Omelette
Ingredients
2 slices cooked bacon
1 teaspoon bacon fat
2 large eggs
cheddar cheese
1 teaspoon chopped chives
Salt and Pepper to taste
Procedure
Shred the cheese, pre-cook the bacon, and have the chives chopped.
Heat a pan with bacon fat in it to medium-low heat. Add the eggs, and season with chives, salt, and pepper.
Once the edges are starting to set, add your bacon to the center and let cook for 20-30 seconds longer.
Add the cheese on top of the bacon, making sure it's centered. Take two edges of the omelette and fold them onto the cheese. Hold the edges there for a moment as the cheese has to partially melt to act as a "paste" to hold them in place.
Do the same with the other edges, creating a burrito of sorts, then flip over and let cook in the warm pan for a bit longer.
Serve with a bit of extra cheese, bacon, and chives on.
Nutrition Facts: 378 Calories, 30.25g Fats, 1.86g Net Carbs, and 24.86g Protein.
Lunch – Garlic Bacon Wrapped Chicken Tidbits
Ingredients
1 large chicken breast, cut into small bites (approx 22-27 pieces)
8-9 thin slices of bacon, cut into thirds
3 Tablespoons garlic powder (or 6 crushed garlic
Procedure:
Line a baking tray with aluminum foil.
Place the garlic powder into a bowl and dip each chicken bite into the garlic powder.
Wrap each short bacon piece around each garlic chicken bite. Place the bacon wrapped chicken bites on the baking tray. Try to space them out so they're not touching.
Bake for 25-30 minutes until the bacon turns crispy. Turn the pieces after 15 minutes if you can remember.
Nutrition Facts: Calories: 230 | Fat: 13 g | Carbohydrates: 5 g | Sugar: 2 g | Fiber: 1 g | Protein: 22 g
Dinner – Spinach Almond Stir-Fry
Ingredients
1 lb spinach leaves
3 Tablespoons almond slices
Salt to taste
1 Tablespoon coconut oil for cooking
Procedure
Place the 1 tablespoon coconut oil in a large pot over medium heat.
Add the spinach and let it cooked down.
Once the spinach is cooked down, add the salt to taste and stir.
Before serving, stir in the almond slices.
Nutrition Facts: Calories 150 | Fat: 11 g | Carbohydrates: 10 g | Sugar: 1 g | Fiber: 6 g | Protein: 8 g
Keto Diet Meal Plan Day 3 – Wednesday
Breakfast – Eggs and Bacon
Ingredients
3 eggs
1/3 cup heavy whipping cream
1tablespoon butter
4 slices bacon
Pinch of freshly ground black pepper
Procedure:
For Crispy Bacon
Preheat your oven to 350 F
Lay the bacon on a cookie sheet and pop them in the oven when it's heated.
That's it! Just wait until they look crispy and pull them out. It takes about 10-15 minutes.
When it gets to this point, you can just about take them out. They will cook a little bit more from the heat of the cookie pan.
For Scrambled Eggs
Add your cream in with the eggs and whisk lightly. You don't want them to be completely yellow and make streaks of egg whites running through.
Heat your pan to medium-low on the stove and add the butter.
Once the butter has melted, add your egg mixture.
Gently stir in with a spatula in figure eight pattern. Only 3-4 times to bring up the eggs at the bottom, you want them to stay intact as much as possible.
Nutrition Facts: Calories 761, 68.15g Fats, 3.68g Net Carbs, and 32.77g Protein.
Lunch – Crispy Pork Salad
Ingredients
58 ounces pork belly slices
2 teaspoons salt
07 ounces walnut halves
1 tablespoon stevia
41 ounces blue cheese
¼ medium pear
½ teaspoon Dijon mustard
½ teaspoon wholegrain mustard
2 tablespoons white wine vinegar
2 teaspoons olive oil
12 ounces mixed greens
Procedure
Turn your oven on to its broil setting.
Take your pork slices and cover with 1 teaspoon of olive oil and liberally apply salt to both sides. Cook in the oven until golden brown and crispy.
While you wait for your pork to cook, roughly chop walnut halves into smaller pieces.
Wait for the stevia to dissolve and add your roughly chopped walnuts. Cook for approximately 5 minutes until the liquid has thickened and caramelized on the nuts.
Tip your nuts onto a tray to cool.
Chop your blue vein cheese and pear into bite-size pieces and set aside.
Make your vinaigrette by adding mustards, white wine vinegar, and olive oil in a small bowl and whisk or mix with a fork until thickened and combined well.
Toss your salad greens with the vinaigrette and top with sliced pork belly, candied nuts, blue vein cheese, and pear.
Nutrition Facts: 537.5 Calories, 51.46g Fats, 4.77g Net Carbs, and 12.74g Protein.
Dinner – Popper Soup
Ingredients
4 Chicken Thighs (deboned)
1 tbsp. Chicken Fat
3 Jalapenos Diced
2 tsp. Minced Garlic
Onion Powder
1 tsp. Dried Cilantro
Cajun Seasoning
Salt and Pepper to Taste
3 cups Chicken Broth
6 oz. Cream Cheese
4 oz. Cheddar Cheese
4 Slices Bacon (topping)
Procedure
Heat 1 tbsp. chicken fat on the stove over medium-high heat. Once hot, add chicken bones to pot and fry for 5-10 minutes.
Add diced jalapeno peppers and garlic to the mixture. Let this cook for 3-4 minutes or until soft.
Add broth and spices to the mixture and stir until pan is deglazed. Simmer until chicken thighs are cooked.
Remove the crispy chicken skin from the thighs. Remove chicken bones from the broth and discard.
Add excess chicken fat to the pot, then use an immersion blender to puree the jalapenos and garlic into the broth. Shred chicken meat and add to the pot. Let this simmer for 10-15 minutes.
Add cream cheese and cheddar cheese to the soup and stir while simmering for 5 minutes, or until all cheese has dissolved.
Cook sliced bacon over medium-high heat until crisp. Lay to rest on paper towels to crisp up. Garnish on top of the soup.
Nutrition Facts: 550 Calories, 42.7g Fats, 3g Net Carbs, and 33.7g Protein.
Keto Diet Meal Plan Day 4 – Thursday
Breakfast – Fluffy Buttermilk Pancakes
Ingredients
2 large eggs, separated
½ cup liquid egg whites or egg substitute*
buttermilk
a teaspoon vanilla extract
1 tablespoon protein powder
¼ cup coconut flour
baking powder
1⁄8 teaspoon cinnamon
1 packet of Stevia
Butter or oil for cooking
*Can substitute with 4 egg whites.
Procedure
Beat the egg whites with a pinch of salt until they have soft peaks.
Mix the buttermilk, egg yolks, liquid egg whites, and vanilla extract in a bowl.
In a separate bowl, whisk the coconut flour, protein powder, baking powder, and cinnamon. Add the dry ingredients to the wet and mix until combined.
Fold the whipped egg whites into the batter; make sure not to deflate the whites.
Preheat a nonstick skillet over medium-low heat. For each pancake, lightly grease the pan with butter.  Then pour 1/4 cup of batter into the skillet, moving slightly to distribute batter.
Cook until bubbles are visible on top, then flip the pancake over and cook until the other side is golden brown.
 Nutrition Facts: 422 Calories, 19.28g Fats, 13.01g Net Carbs, and 32.75g Protein.
Lunch – Thin Crust Low Carb Pizza
Ingredients
1 piece Joseph's Low-Carb Pita Bread
2 tablespoons Rao's Tomato Sauce
2 ounces low-moisture mozzarella cheese
ground black pepper
garlic powder
1/8 tsp chili flakes
Procedure
Either brush lightly with oil or spray both sides with cooking spray.
Place in oven for 1 to 2 minutes to harden and toast the crust.
Remove from oven and add the sauce.
Add cheeses (Mozz first)
Add toppings of your choice
Rub with some olive oil and toast for 1-2 minutes at 450° degrees to crisp it
Cook for an additional 3-6 minutes to melt cheese.
Nutrition Facts: 254 Calories, 16.02g Fats, 7.79g Net Carbs, and 19.37g Protein.
Dinner –Black Pepper with Lemon Tuna Salad
 Ingredients
⅓ cucumber, diced small
½ small avocado, diced small
a teaspoon of lemon juice
1 can (4-6 oz. or 100-150 g) of tuna
Tablespoon Paleo mayo
1 Tablespoon mustard
Salt
Black pepper
Procedure
Mix together the diced cucumber and avocado with the lemon juice.
Flake the tuna and mix well with the mayo and mustard.
Add the tuna to the avocado and cucumber. Add salt to taste.
Prepare the salad greens (optional: add olive oil and lemon juice to taste).
Place the tuna salad on top of the salad greens.
Sprinkle black pepper on top.
 Nutrition Facts: Calories: 480 | Fat: 40 g | Carbohydrates: 11 g | Sugar: 2 g | Fiber: 8 g | Protein: 45 g
Keto Diet Meal Plan Day 5 – Friday
Breakfast – Blackberry Pudding
 Ingredients
1/4 cup Coconut Flour
1/4 tsp. Baking Powder
5 large Egg Yolks
2 tbsp. Coconut Oil
Butter
2 tbsp. Heavy Cream
2 tsp. Lemon Juice
Zest 1 Lemon
1/4 cup Blackberries
2 tbsp. Erythritol
10 drops Liquid Stevia
The Execution
Procedure
Preheat oven to 350°F.
Separate egg yolks from egg whites and set yolks aside. Measure out dry ingredients and set aside. Measure butter and coconut oil and set aside.
Beat egg yolks until pale in color, then add erythritol and stevia. Beat again until well combined.
Add heavy cream, lemon juice, lemon zest, coconut oil, and butter. Beat again until fully combined.
Sift dry ingredients over wet ingredients and mix well again.
Distribute batter between 2 ramekins, then push 2 tbsp. Blackberries into each ramekin.
Bake for 20-25 minutes, let cool.
Nutrition Facts: 459.5 Calories, 44.04g Fats, 4.91g Net Carbs, and 9.1g Protein.
Lunch – Chicken Noodle Soup
 Ingredients
3 cups chicken broth (use this recipe or buy this one) (approx 720ml)
1 chicken breast, chopped into small pieces (approx 240g or 0.5 lb)
2 Tablespoons avocado oil
1 stalk of celery, chopped (approx 57g)
green onion, chopped (approx 10g)
¼ cup cilantro, finely chopped (approx 15g)
1 zucchini, peeled (approx 106g)
Salt
Procedure
Dice the chicken breast.
Add the avocado oil into a saucepan and saute the diced chicken in there until cooked.
Add chicken broth to the same saucepan and simmer.
Cut the celery and add it to the saucepan.
Chop the green onions and add it to the saucepan.
Cut the cilantro and put it aside for the moment.
Create zucchini noodles –Add zucchini noodles and cilantro to the pot.
Simmer for a few more minutes, add salt to taste, and serve immediately.
Nutrition Facts: Calories: 310 | Fat: 16 g | Carbohydrates: 6 g | Sugar: 3 g | Fiber: 2 g | Protein: 34 g
Dinner –  Coconut Shrimp
Ingredients
Coconut Shrimp
1 lb. Shrimp, peeled and deveined
2 large Egg Whites
1 cup Unsweetened Coconut Flakes
2 tbsp. Coconut Flour
Sweet Chili Dipping Sauce
1/2 cup Sugar-Free Apricot Preserves
1 1/2 tbsp. Rive Wine Vinegar
a  tablespoon of Lime Juice
1 medium Red Chili, diced
1/4 tsp. Red Pepper Flakes
Procedure
Preheat oven to 400F.
Prep all ingredients: Beat egg whites to soft peaks, and set out coconut flakes and coconut flour in separate bowls.
Dip shrimp in coconut flour, then egg white mixture, then coconut flakes. Lay them flat onto a pre-greased baking sheet or Silpat.
Cook shrimp for 15 minutes, flip and then broil for additional 3-5 minutes to ensure browning on both sides.
While shrimp is cooking, combine all ingredients for dipping sauce and mix well. Serve 2-3 Tbsp. per serving.
Nutrition Facts: 97 Calories, 20g Fats, 6.5g Net Carbs, and 36.5g Protein.
Keto Diet Meal Plan Day 6 – Saturday
Breakfast – Fried Eggs with Kale and Pork
 Ingredients
4 eggs
3½ oz.butter
½ lb kale
½ lbs smoked pork belly or bacon
1 oz.pecans or walnuts
4 tablespoons frozen cranberries
salt and pepper
Procedure
Trim and chop the kale into large squares.
Melt two-thirds of the butter in a frying pan and fry the kale quickly on high heat until slightly browned around the edges.
Remove the kale from the frying pan and set aside. Sear the pork belly or bacon in the same frying pan until crispy.
Lower the heat. Return the sautéed kale to the pan and add the cranberries and nuts. Stir until warmed through. Reserve in a bowl.
Turn up the heat and fry the eggs in the rest of the butter. Salt and pepper to taste. Plate two fried eggs with each portion of greens and serve immediately.
 Nutrition Facts: 88% Fat, 9% Protein, 3% Carbs; 8 g carbs per serving
Lunch – Sesame Chicken Kebabs  
Ingredients
1 medium onion, finely chopped
¾ pound / 340 gr organic ground chicken
organic egg
1 tablespoon ricotta cheese
a handful of fresh parsley leaves, chopped
small handful of fresh mint leaves, chopped
1 teaspoon fine grain sea salt
a pinch of ground black pepper
olive oil
2 tablespoon sesame seeds, for coating
Procedure
Soak wooden skewers in water.
Heat one tablespoon of olive oil in a large skillet over medium heat. Add onions and sauté for about 6 minutes until translucent.
Once cooked, transfer onions to a large bowl and add ground chicken, egg, ricotta, mint, parsley, salt and pepper. Mix until well combined.
Place the sesame seeds into a shallow dish and set aside.
Using a paper towel remove any stuck onion bits from the skillet. Add the remaining one tablespoon of olive oil and heat over medium-high heat.
Repeat the procedure until all kebabs are formed.
Nutrition Facts: 83 calories, 5.7 grams of fat, 1.9 grams of carbs and 5.8 grams of protein.
Dinner – Ginger Sesame Glazed Salmon
Ingredients
10 oz. Salmon Filet
2 Tbsp. Soy Sauce (or coconut aminos)
2 tsp. Sesame Oil
1 Tbsp. Rice Vinegar
Minced Ginger
2 tsp. Minced Garlic
1 tbsp. Red Boat Fish Sauce
Sugar-Free Ketchup
2 tbsp. White Wine
Procedure
Marinade ingredients in the liquids for about 10-15 minutes.
Bring a pan over high heat and add sesame oil. Once you see the first whips of smoke, add fish skin side down.
Let fish cook and skin crisp, then flip and cook on the other side (about 3-4 minutes per side, depending on thickness). Add all marinate liquids to the pan and let it boil with the fish when you flip it.
Remove fish from pan and set aside. Add ketchup, and white wine to marinate liquids. Let simmer for 5 minutes to reduce.
 Nutrition Facts: 370 Calories, 23.5g Fats, 2.5g Net Carbs, and 33g Protein.
Keto Diet Meal Plan Day 7 – Sunday
Breakfast – Low Carb Stax
 Ingredients
10 slices bacon
2 tablespoons bacon grease
4 cups spinach
4 large eggs
½ cups cheddar cheese
2 tablespoons heavy cream
¼ tsp kosher salt
¼ teaspoon ground black pepper
Procedure
Preheat your oven to 400F.
Weave your 5×5 bacon weave.
Put your weave in the oven for 25 minutes. While it's cooking start to mix your eggs and heavy cream.
When the weave comes out of the oven, remove the weave and place it on a paper towel to get rid of the excess grease.
Take 2-3 Tbsp. of your bacon grease and put it in a pan with some spinach.
Add your eggs once the spinach is cooked down and season to your tastes.
Let your eggs scramble and put them on top of the bacon weave.
Add cheese to the top of the eggs and broil for 3-4 minutes in the oven.
Let cool for 5-10 minutes.
 Nutrition Facts:  330 Calories, 27.47g Fats, 1.78g Net Carbs, and 17.83g Protein.
Lunch – Vegan's Red Coconut Curry
Ingredients
1 cup broccoli florets
1 large handful of spinach
4 tablespoons coconut oil
¼ medium onion
a teaspoon of minced garlic
1 teaspoon minced ginger
2 teaspoons Fysh sauce
2 tsp. soy sauce
1 tablespoon red curry paste
½ cup coconut cream (or coconut milk)
Procedure
Chop onions and minced garlic. Add 2 tbsp. Coconut Oil to a pan and bring to medium-high heat.
Once hot, add onions to the pan and cook until semi-translucent. Then add garlic to the pan to brown it.
Turn heat down to medium-low and add broccoli to the pan. Stir everything together well.
Once broccoli is partially cooked, move vegetables to the side of the pan and add curry paste. Cook for 45-60 seconds.
Add spinach on top of the broccoli and once it begins to wilt, add the coconut cream and the rest of the coconut oil.
Stir together and add soy sauce, fysh sauce, and ginger. Let simmer for 5-10 minutes, depending on the thickness you want.
 Nutrition Facts: 398 Calories, 40.73g Fats, 7.86g Carbs, and 3.91g Protein.
Dinner – Sesame Chicken
Ingredients
Coating and Chicken
egg
tablespoon of arrowroot powder (or cornstarch)
chicken thighs (cut into bite-sized pieces)
2 tsp toasted sesame seed oil
Salt and pepper
Sesame Sauce
2 tbsp soy sauce
1 tablespoon toasted sesame seed oil
2 tbsp Sukrin Gold
1 tablespoon vinegar
ginger
1 clove garlic
2 tbsp sesame seeds
1/4 tsp xanthan gum
Procedure
Combine egg with arrowroot powder or cornstarch.
Mix in chicken pieces and make sure to coat them all over.
Heat up sesame seed oil and add chicken in a large saucepan.
While chicken is cooking, combine all ingredients for the sesame sauce and whisk together.
Add the sesame sauce and stir together.
After sauce has thickened, you are done.
Add the chicken to a side of broccoli if you want.
 Nutrition Facts: Calories 520.0, Fats 36g, Proteins 45g, Net Carbs 4g
Side effects of the Ketogenic Diet
Starting with the ketogenic diet could have few side-effects. The first is muscle cramps. Cramps usually occur both at night or day and it is an indication of lack of vitamins and minerals. To combat this issue, make sure you drink water and put salt on your food.
Another side effects are dehydration, constipation, heart palpitations, indigestion, rashes, and reduced physical performance. This will be prevented by consuming vegetables rich in fiber and drinking more water. These side-effects are the normal reaction of our body as it shifts to another phase. But if the problems still continue, it is best to see a doctor because this may be an indication of greater
health problem.
It can increase in fats and less in glucose
Our body is used to break down carbs as we use it as energy. It has built an arsenal of enzymes for this routine and only a few of the enzymes for dealing with body fats. Then switch to a diet increases in fats and less in glucose.
As our bodies undergo in ketosis, it will use the remaining glucose.  With this, our body will have depleted glycogen in the muscles which cause lethargy and decrease of physical performance.
Ketoacidosis
If the production of ketones or ketone bodies and blood sugar gets too high, you can experience 'ketoacidosis'. This is the stage where your body doesn't produce enough insulin. This combination makes your blood too acidic, which can change the normal functioning of internal organs like your liver and kidneys. If you don't get prompt treatment for it, you could go into a coma or die.
In this condition, your blood will become acidic which can affect the normal functioning of the liver, kidneys, and other internal organs. If there is no immediate medication on ketoacidosis, you will likely to go into a coma or die.
Conclusion
As a conclusion, the ketogenic diet is one of the most popular diet plan today that people of different ages can try. It is important to give value to the food we eat to be disease-free. Do not forget to consult an expert in planning to change our lifestyle and start living healthy.